In the heart of October, when the leaves turn golden and the air grows crisp, a curious tale unfolds.
Amidst the gravestones and the whispering trees, a stray sheep named Oracle finds herself in an unlikely haven.
She seems to have developed a fondness of loitering in the cemetery.
Oracle, with her fluffy white coat and wary eyes, has been calling this place home for no less than three weeks.
And while the setting might seem macabre to some, for Oracle, it's a sanctuary from the world.
Oracle's presence in the cemetery was not unnoticed. Locals would often spot her, grazing peacefully or taking shelter under a tree.
But Oracle was no ordinary sheep.
She was scared of humans, perhaps due to past traumas or the absence of her flock.
This fear kept her in a perpetual state of alertness, making any rescue attempts challenging.
Among those who took notice of Oracle was a kind-hearted individual who set up a food station for her.
Every day, like clockwork, Oracle would approach the station, munching on the food and sipping water from the same dishes.
This routine, though simple, was the first step in gaining her trust.
The mystery of Oracle's origins remained.
How did she end up in a cemetery? How far had she traveled? And more importantly, how could she be safely rescued?
The cemetery's proximity to an area in Beacon known for its coyote population added urgency to the situation.
Enter John Viv, a neighbor of the cemetery, who was smitten by Oracle's charm.
Along with another neighbor, they took turns feeding Oracle twice a day.
Their dedication and patience began to pay off. Oracle, initially hesitant, slowly warmed up to their presence.
The rescue plan was set in motion.
The feeding station was strategically moved closer and closer to a trailer.
The idea was to make Oracle comfortable with the trailer, a space many farmed animals associate with traumatic experiences.
Day by day, Oracle's trust grew, and she began venturing into the trailer.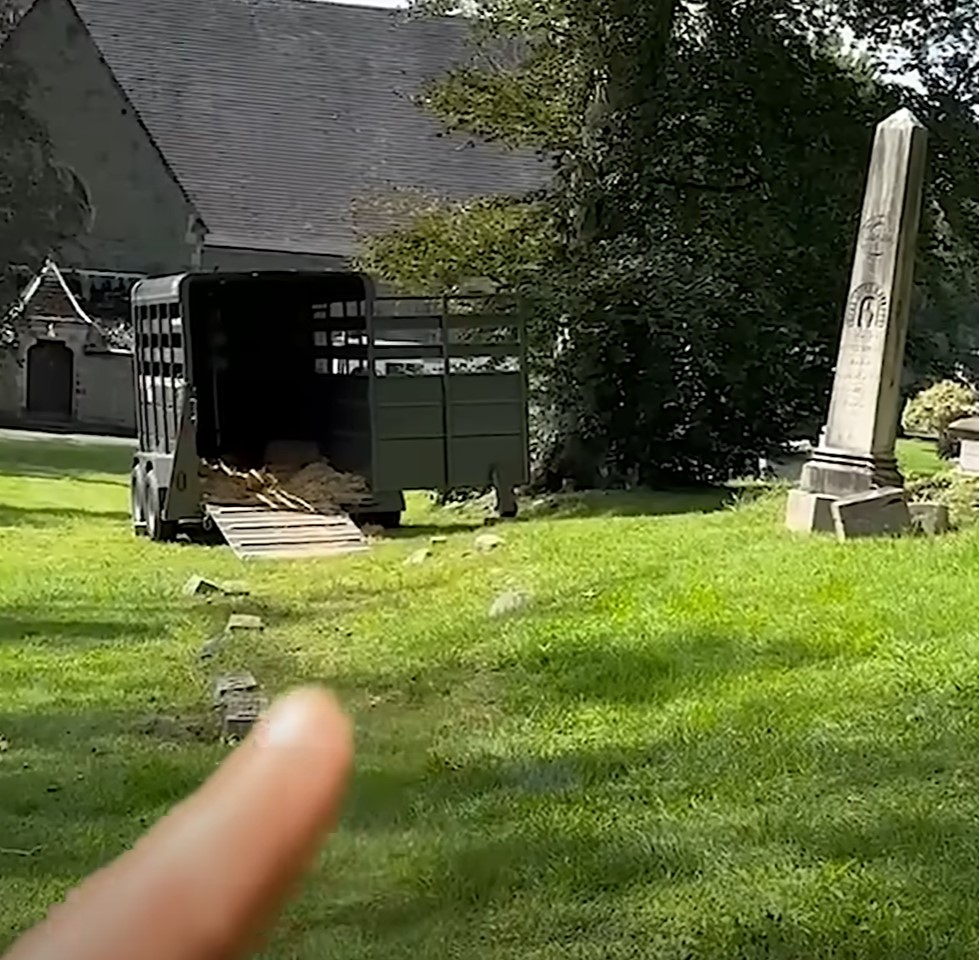 One fateful morning, the awaited message arrived- Oracle was safely contained in the trailer.
The plan had worked!
Volunteers swiftly transported her to a sanctuary, where she would receive a full medical check-up and, more importantly, a chance at a new life.
At the sanctuary, Oracle's journey of healing began.
Though she remained one of the most fearful animals they had rescued, she began to settle in.
The same volunteer, John Viv, visited her regularly, ensuring her transition was smooth.
With time, Oracle's world expanded, and she was introduced to other sheep, paving the way for friendships and a sense of belonging.
From the quiet corners of a cemetery to the bustling life of a sanctuary, Oracle's journey reminds us of how life can always surprise us.
As she settles into her new home, one can't help but think that Oracle's story is just beginning, with many more chapters of joy and companionship yet to be written.
See Oracle give her rescuers the runaround and how they finally convinced her to leave below!
Please SHARE this with your friends and family.