A day on the waters off Kailua took an unexpected turn for a local family.
While many families venture out to enjoy marine life, this family encountered something quite unusual during their boat trip.
The day began ordinarily enough. The family spotted turtles and enjoyed the serene waters.
But as they ventured further, they noticed a peculiar sight.
A blackish-brown creature, about 2 to 3 feet in length, was swimming in the distance.
Upon closer inspection, they realized it wasn't a log or any marine animal they recognized.
It was, in fact, a pig.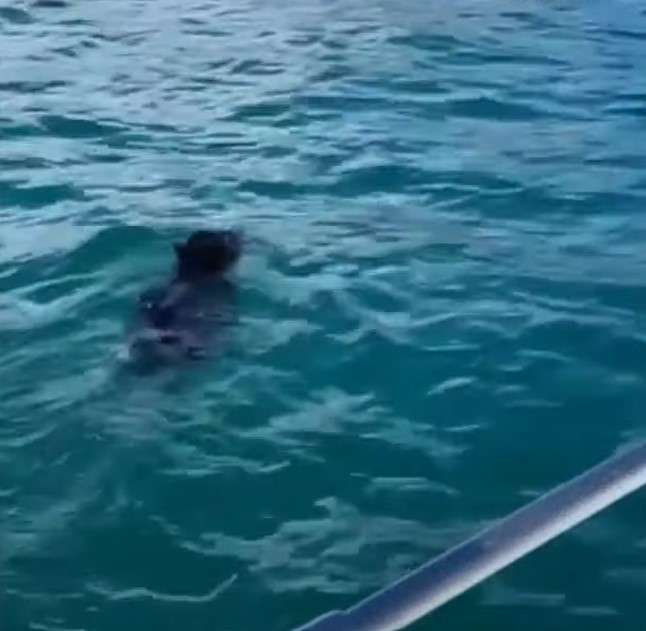 The family was taken aback.
"We were baffled, wondering how it got there," one family member recalled.
The waters were deep, and they were roughly two miles from the shore.
The sight of a pig in such a location was both surprising and concerning.
Determined to help the stranded animal, the family went into rescue mode.
The pig, perhaps sensing their intent, made initial attempts to swim away.
The family persisted, and after about 45 minutes of effort, they managed to get a rope around the animal.
They affectionately named their unexpected companion "Miracle."
Once aboard, Miracle's exhaustion was evident.
"She just collapsed," the family shared. Their concerns about the pig's potential aggression or fear were quickly put to rest.
Miracle seemed to understand she was safe.
After the rescue, the family continued their journey to a nearby sandbar.
They spent time with Miracle, trying to offer her fresh water and food.
However, the pig showed no interest, perhaps still in shock from her ordeal.
On returning to shore, the family decided to release Miracle near a wooded area.
The moment she felt the familiar ground beneath her, the pig's spirits lifted.
She explored her surroundings and eventually disappeared into the woods, hopefully finding her way back home.
The family couldn't help but express gratitude for the chance encounter.
"We're just thankful we were there to spot her and give her a second chance," they said.
See this family pull a pig from the water to save its life below!
Please SHARE this with your friends and family.
Article Sources:
YouTube – KHON2 News