Picture a world where the most unlikely of friendships blossom in the face of tough times.
That's exactly what unfolds in Charlot's story—a young dog who faced paralysis at a tender age, and her unlikely companion from the feline world.
Together, against the odds, they set out on a journey of healing and transformation.
The tale shows the strength of the human spirit and the magic of companionship.
Charlot's life took a heartbreaking turn when paralysis struck in her youth.
Veterinarians proposed euthanasia as the humane path, but Charlot's mom wasn't ready to throw in the towel.
She believed her furry companion deserved a chance to fight, echoing the sentiment, "I'm holding onto hope; sometimes you've got to dig deep."
These words became a guiding force for the duo, emphasizing the importance of hope and the willingness to invest in a brighter tomorrow.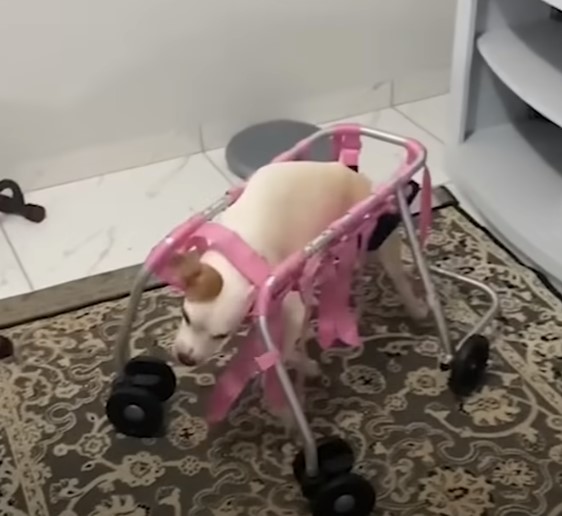 And then enters the rescue cat Olaf, an unexpected hero in Charlot's narrative.
This feline friend doesn't just offer emotional support. He became Charlot's driving force to take those vital steps towards recovery.
The mere presence of the cat seems to light up Charlot's spirit, encouraging her to break her limits and aim for progress every single day.
The video captures their daily routine—a sequence of exercises crafted to help Charlot regain her mobility.
It's a gradual process, but their commitment is unwavering.
Often, Olaf takes the lead, motivating Charlot to follow suit, like a furry physiotherapist. Their bond is symbiotic, with both drawing strength from the other's companionship.
But it's more than just physical recovery — it's a tale of emotional healing too.
Charlot and Olaf share a bond that defies species boundaries — a connection that seems to mend the gaps in their lives.
This emotional depth adds an extra layer to their story, transforming it into not just a narrative of healing, but one of love and friendship.
The video also subtly addresses a broader theme—animal welfare. Charlot and Olaf represent just two instances among countless animals deserving of a second chance at life.
As the story unfolds, it's clear that Charlot's journey is far from its end.
Yet, the progress she's achieved, largely with the help of her feline companion, is nothing short of remarkable.
The duo shines as a source of hope, showcasing that with love, support, and a touch of bravery, the impossible can become possible.
The narrative comes full circle, reminding us of that initial guiding principle: "I'm holding onto hope; sometimes you've got to dig deep."
This phrase encapsulates the heart of the story, highlighting the potency of hope and the significance of taking action—whether it's adopting a pet, contributing to an animal welfare group, or merely sharing a story that could inspire others.
In the end, Charlot and Olaf aren't just characters in a heartwarming video. They embody resilience, love, and the transformative influence of companionship.
Their journey serves as a poignant reminder that sometimes, the most incredible miracles sprout from the simplest acts of kindness.
Check out Charlot and Olaf's incredible story below!
Please SHARE this with your friends and family.