The worst thing about not having Roscoe around anymore was that his family never knew what actually happened to him.
His human mom, Nicolle Leon, came home one day in 2015 and found him gone.
Maybe someone dognapped him right from their own backyard.
Maybe he got out and whoever found him kept or sold him to someone else. Leon didn't know.
All she know was that her beloved beagle puppy, that only had been with them for a few months, was separated from his family.
All she could hope for was that he was safe and well taken care of.
"My kids were sad," she told FOX. "We all were."
Leon called animal control and reached out to local shelters but no one had seen Roscoe.
The family, however, was hopeful since he was microchipped.
Leon's daughter, Alani, recalls spending months and months searching for the dog.
They put up flyers and made calls to local resources but no one had seen Rescue.
The family didn't hear anything for years.
It took them a while to come to the grips with the fact that Roscoe was gone.
It wasn't until eight years later when Leon got a call from a woman in January 2023 who said they found Roscoe.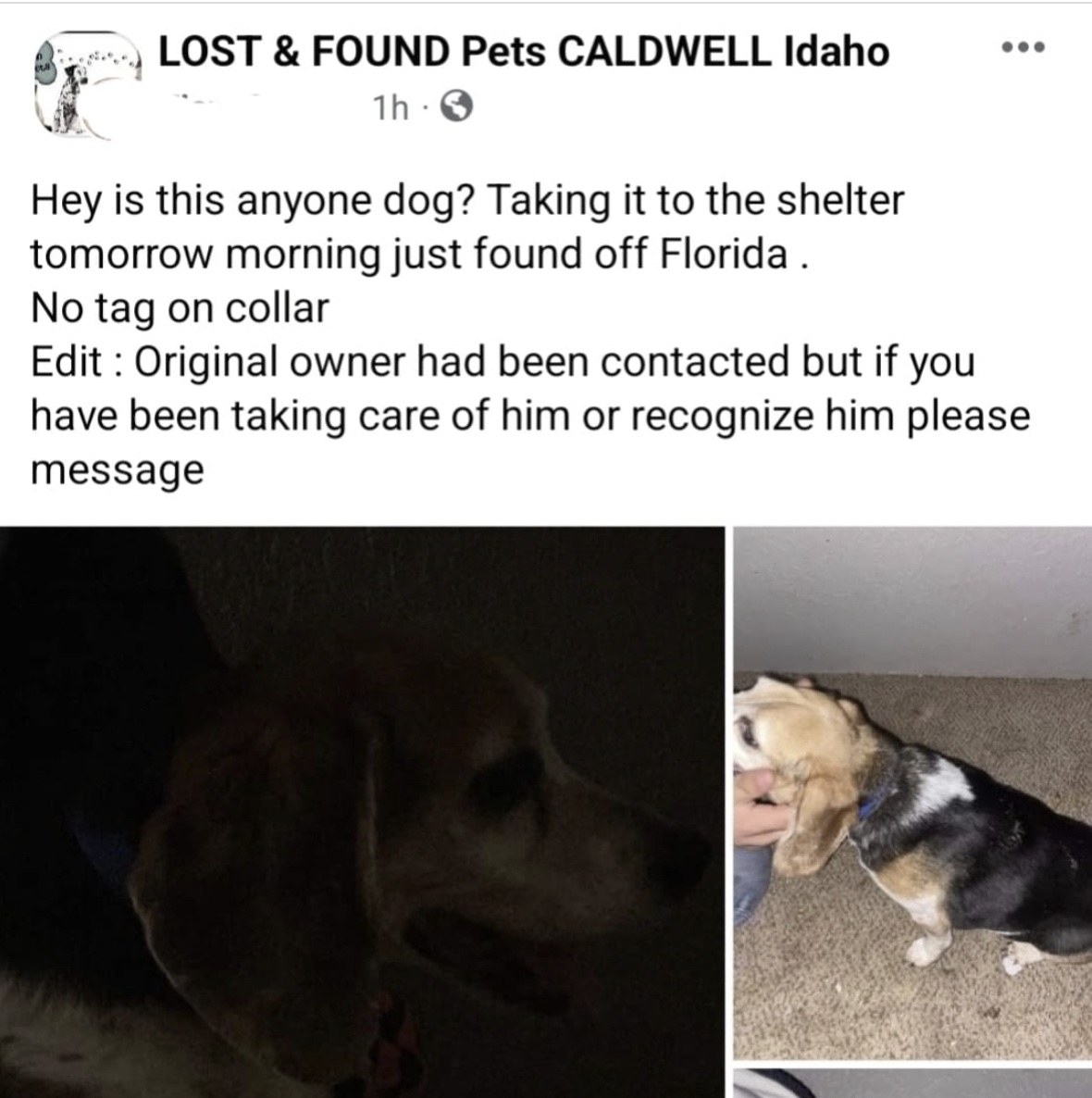 At first, Leon thought the woman was referring to one of the family's other dogs.
She couldn't fathom that it would be Roscoe after all this time.
Leon was away for work and in a different time zone when she was woken up by the phone call.
Not only did they find Roscoe almost a decade later, but more surprisingly, he was found more than 1,300 miles away from where he went missing.
Leon, who lives in Kansas, couldn't believe that it was actually Roscoe since he was found in Idaho.
But when the woman said the dog she found was a beagle, it finally clicked for Leon.
It was lucky that Leon had kept the same number.
Some local dog rescues were kind enough and went out of their way to arrange to take Roscoe back to Kansas.
The individuals who found and helped Roscoe said that if the collar he was wearing had a tag, he probably wouldn't have been taken back to his false owner.
They wanted to stress that any found dog should be taken for a microchip scan and that finders should request multiple forms of proof of ownership.
This can include updated vet records and photos. Owners should make sure microchip info is always updated.
It is still unknown what happened to Roscoe during that eight-year period or how he made it to Idaho.
It is believed that he might have been stolen since he wasn't wearing a tag when he was found.
As for Leon and her family, they are thrilled to be reunited with their long-lost pup.
They credit the women who helped bring Roscoe home with giving them back "a piece of our family."
"It's amazing to have him back," she said. "It's sad we've missed out on the last eight years with him though. He's such a good dog and I think he really remembers us."
If you check out the video of Roscoe being reunited with his family, it's pretty clear that he does remember them and that he is extremely happy to be home.
Watch Roscoe with his family in the video below!
Please SHARE this with your friends and family.