Seeing a dying puppy is never a good sight.
It can be heartbreaking to see them helpless, especially when they have no one beside them.
This is exactly what a cyclist that goes by the name Diane Lea experienced.
Diane is an exceptional woman.
When it comes to protecting the environment, the founder of the 50 Causes Ride, which seeks to bring attention to 50 different causes, has other ideas.
In the Southern Arizona desert, where it was around 105 degrees Fahrenheit, Diane Lea was cycling.
Under such oppressive conditions, few people would venture outside to ride bicycles.
It was a good thing she did.
Diane saw something in the road.
Diane stumbled upon a puppy in the middle of the road while cycling on this particular day.
Just consider what a dog would be doing all by itself in such a lonely spot in the desert.
But it was obvious that the puppy was on the verge of passing away.
She knew she had to intervene.
Diane made the choice to save the puppy's life without any hesitation.
She stopped her bike when she saw it and picked up the dog.
She then rode her bike back to the RV and started treating it for injuries.
This RV's absence of the traditional touring car's contents was one of its standout features.
Thankfully, she had enough to help.
This RV was filled with treasures that Diane and her driver, Liz Watkins, had found along the side of the road on the ninth day of their journey, rather than lovely things like blankets, air conditioning, and other amenities.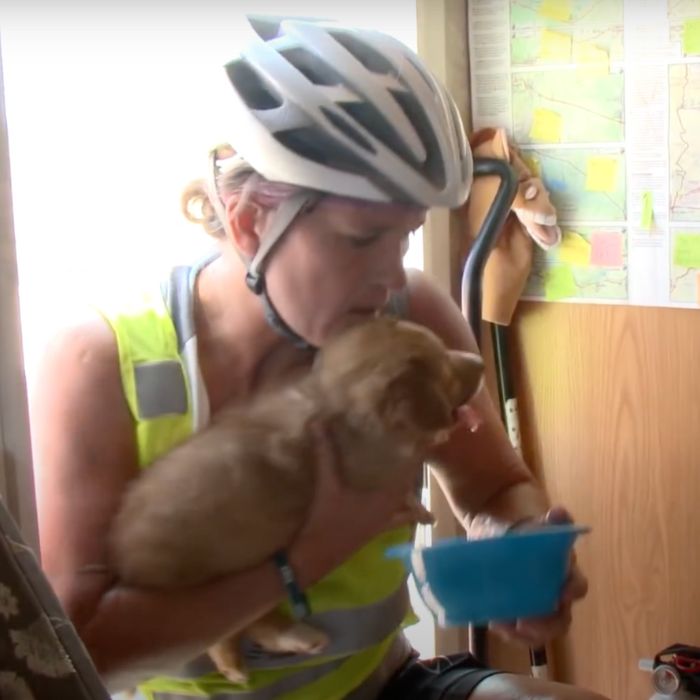 The dog immediately drank the water that Diane Lea offered it since it was clearly thirsty.
She placed the dog in a bucket.
It was probably the only place they could have put the puppy that was comfortable.
She then kept taking care of the dog until it was no longer hungry.
Eventually, the dog was able to fully recover, thanks to the good samaritan's incredible efforts.
Diane should inspire all of us.
There are many reasons why it's important to help and save animals.
One of the most significant is that they are our friends, just like us.
We all want the same things: food, water, safety, and a good home.
We must protect animals for many reasons.
First, animals are our friends and companions.
They help us learn about the world, and they can even be our teachers if we let them do so.
Second, all living things have a right to be protected from harm—including those who cannot speak for themselves as humans can.
It's mutually beneficial to save animals.
Third, animals play an important role in the ecosystem by keeping nature healthy so it can continue flourishing as it has since long before human beings walked on earth.
Hence, we should take part in taking care of them as this is our social responsibility as stewards of the world.
See how Diane cleverly saved a dying puppy in the middle of the desert in the video below!
Please SHARE this with your friends and family.
Gianella Argao is a contributor at SBLY Media.