On a sunlit residential street, a young boy named Huxley was gliding on his scooter. It was the kind of day that childhood memories are made of.
But then, the unexpected happened.
A black bear emerges, its path intersecting with Huxley's.
We're not talking about a time in the distant past. We're talking the day before yesterday.
Huxley, only 7 years old, faced the bear with a courage that would make most adults envious, and he didn't panic.
Instead, he held his ground, locking eyes with the approaching bear.
It was a moment of tension, a silent duel of wills between the boy and the beast. One that's been viewed over 8 million times already.
The bear, perhaps sensing the boy's determination, halted, seemingly unsure of its next move.
Just when the situation seemed to reach its peak, a new hero emerged.
Huxley's neighbor, with arms raised high, burst onto the scene. He bravely approached the bear, initiating a thrilling game of hide and seek.
The bear, now the one being pursued, darted behind a car, trying to evade its human challenger.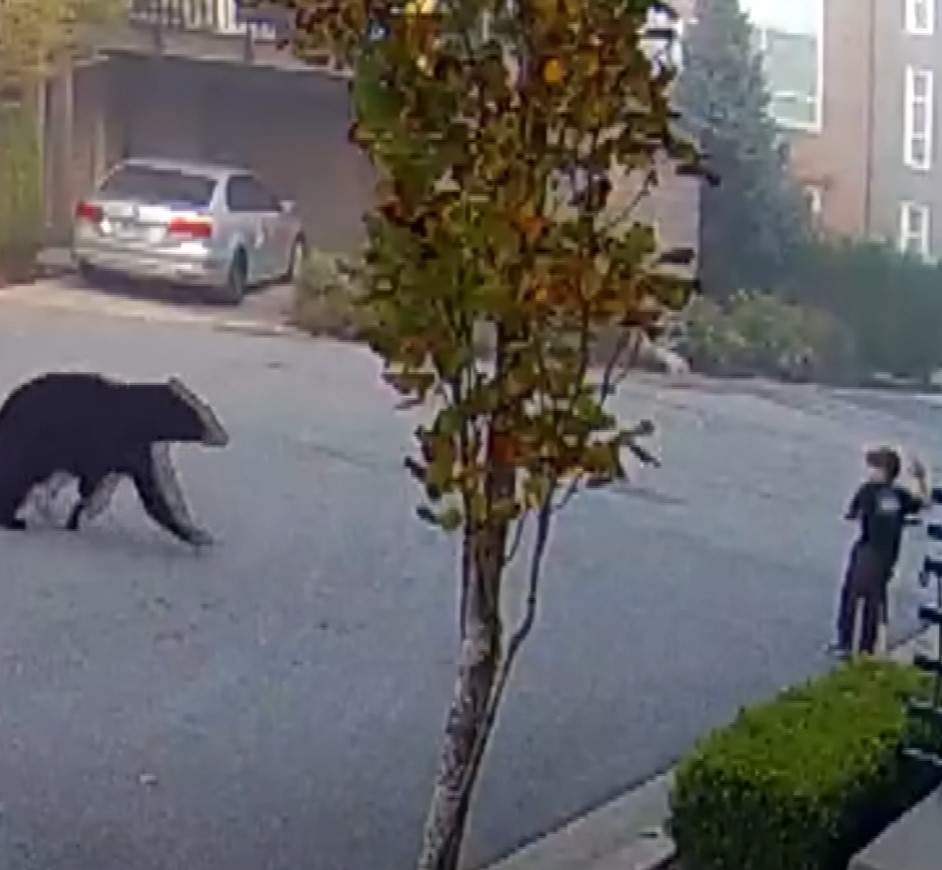 The chase was on.
The neighbor, relentless in his pursuit, kept the pressure on the bear. It was a dance of sorts, with the bear trying to outmaneuver its human counterpart.
But the neighbor's determination prevailed, and the bear, now feeling the heat, decided that retreat was the best option.
With a final glance, it scampered away, leaving the scene as quickly as it had entered.
In the aftermath, Huxley and his mother, Britney, sat down to discuss the day's events.
Living in British Columbia, they're no strangers to wildlife, but this was an encounter of a different kind.
Britney recalled teaching Huxley about the importance of staying alert, especially when alone.
On Sunday, those lessons proved invaluable.
The story also sheds light on the crucial advice wildlife experts often give.
In situations like these, it's vital to remain calm and try to appear large and dominant.
It's a tactic designed to deter potential threats and, in this case, it worked wonders.
Huxley's unwavering gaze and his neighbor's assertive approach were textbook examples of how to handle such encounters.
Britney's voice held a mix of relief and pride as she reflected on the event.
"I think most adults even in that moment would have perhaps panicked or run away… you know, not everybody knows what to do, so I'm super proud of him," she said.
It was clear that Huxley's actions had not only averted a potential crisis but also earned him the admiration of many.
Huxley's encounter with the bear and what followed show us something the world needs to be reminded of.
A good neighbor and some quick thinking can literally turn a difficult situation on its heels.
See how smoothly 7-year-old Huxley handles a curious black bear in the video below!
Please SHARE this with your friends and family.
Article Sources:
YouTube – Inside Edition