The heartbreak one feels upon seeing an abandoned animal is immeasurable.
These innocent beings, left to fend for themselves, grapple with the confusion of their sudden solitude.
The reasons for such abandonment are manifold.
Some individuals, swayed by a fleeting desire, acquire pets without fully grasping the long-term responsibilities and costs.
In other instances, a pet might produce a larger-than-expected litter, leaving the owner feeling overwhelmed.
Particularly distressing is when one of the litter faces health or developmental challenges.
A revealing article on PetSecure delves deeper into this issue, highlighting that a diminishing interest in the pet, financial hardships, or the need to relocate are among the predominant reasons leading to pet abandonment.
What's even more disheartening is that, rather than ensuring these pets find a safe haven in shelters, some owners choose the cruel route of leaving them exposed to the elements and dangers of the streets.
A particularly egregious act was caught on camera: a man, devoid of empathy, left a box containing a vulnerable puppy in an isolated parking area.
In the midst of such bleak narratives emerges Shannon, a beacon of hope for abandoned animals.
A dedicated dog lover, she had already provided a loving home to three rescue dogs.
One day, her security camera captured footage of a man hastily leaving a box in a parking lot.
Drawn by a mix of curiosity and concern, Shannon approached the box, only to discover a fragile pitbull puppy inside.
The pup's condition was dire, with noticeable patches of fur missing and a unique pair of eyes, each a different color.
Speaking to The Dodo about the heart-rending discovery, Shannon shared, "He was in such a terrible condition. But amidst all the pain, his spirit was unbroken; he was still fighting, still holding on to life."
Deeply moved by his resilience, she decided to name him Jiminy Cricket, drawing inspiration from the beloved character in Pinocchio.
With a newfound purpose, Shannon embarked on a mission to restore Jiminy Cricket's health and spirits.
The journey to recovery was not without its challenges.
Shannon dedicated countless hours, pouring her energy and resources into ensuring Jiminy Cricket's well-being.
The initial days were particularly tough, with the traumatized pup displaying signs of fear and apprehension.
Yet, beneath the surface, his indomitable will to survive and thrive shone through.
As the days progressed, the transformation in Jiminy Cricket was nothing short of miraculous.
He developed a fondness for a particular bed, signaling his growing comfort in his new environment.
The family, who had been closely monitoring his progress, were overjoyed to witness his burgeoning trust and confidence.
A mere week later, Jiminy Cricket's recovery was in full swing.
Not only had he regained his physical strength, but he also formed deep emotional bonds with his new family.
He reveled in their shared moments of affection, played with gusto alongside Shannon's other dogs, and in a heartwarming turn of events, the once frail puppy grew so robust that he outgrew his favorite bed, even overshadowing the size of the other dogs!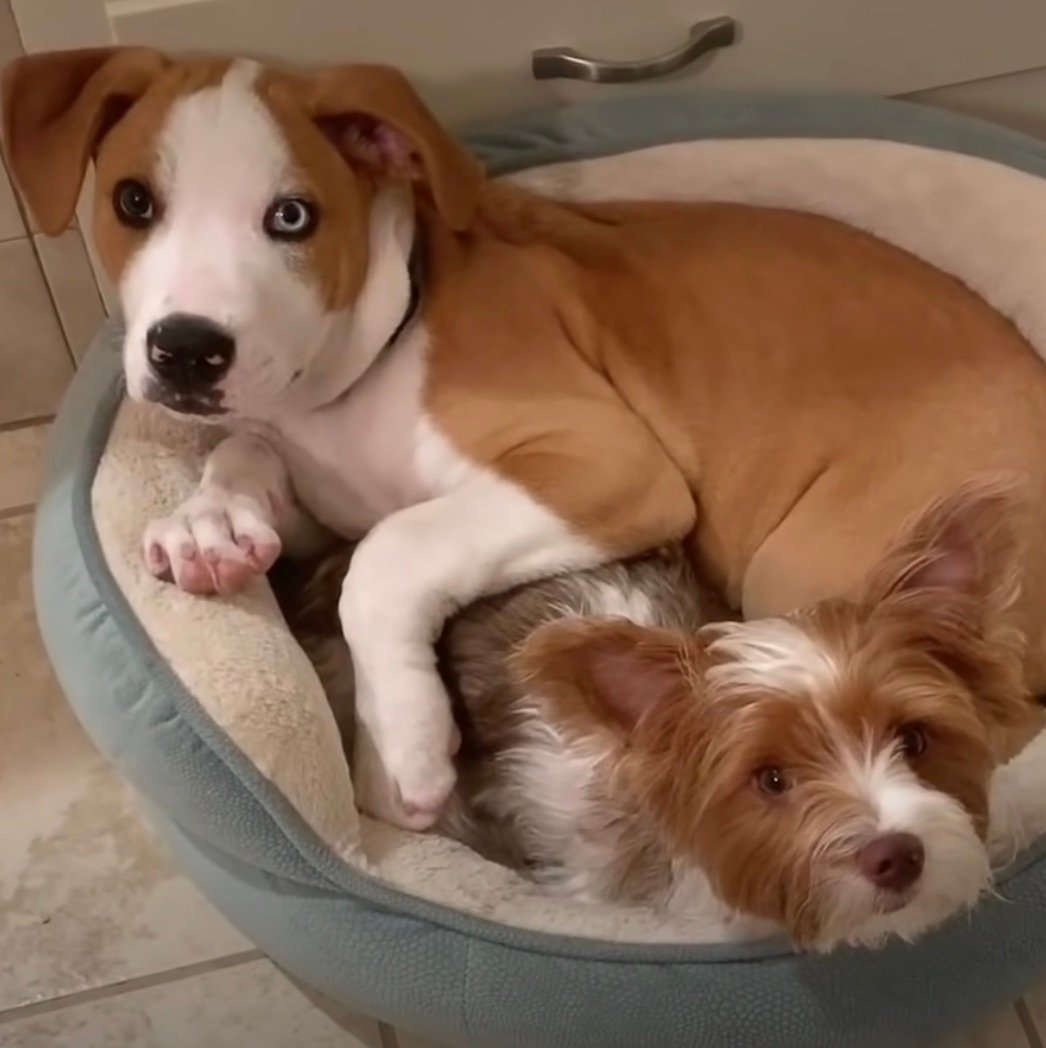 Reflecting on their journey together, Shannon couldn't help but express her profound connection with Jiminy Cricket.
"This dog, with his incredible spirit and resilience, has seamlessly integrated into our lives. He's not just another rescue; he's family. And so, we've decided that Jiminy Cricket is here to stay, becoming our cherished fourth rescue dog."
Among all her rescues, Jiminy Cricket holds a special place, symbolizing hope, transformation, and the boundless love animals bring into our lives.
"Life without Jiminy Cricket is unimaginable. He's brought so much joy and love to our lives," Shannon fondly remarked.
Observing Jiminy Cricket's journey from a state of despair to one of joy and love is truly a testament to the transformative power of compassion.
For those keen on witnessing this heartwarming tale, a detailed video capturing his entire rescue and recovery journey is available below.
Please SHARE this with your friends and family.
ARVE Error: Invalid URL https://www.youtube.com/watch?v=0VAh_L9w0rE in url