A puppy named Lucky got his name for a very good reason.
This little puppy has so much fight in him, and he proved that when his foster mom took him in.
Lucky wasn't even a day old when he was found by a neighbor who heard his cries for help. Her own dog was outside going to the bathroom when she discovered the pack of poochies, who had only been born just hours before.
The man who owned the puppies was a backyard breeder, and he couldn't care less about them.
Since he could no longer profit off them, he handed them straight over to the concerned woman.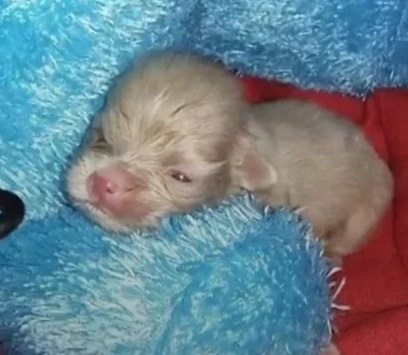 After Clanay Reza, Lucky's fur-ever mom, found out about the litter, she told the woman that she would be more than willing to help out with foster care.
"If you need a foster, or you need help with the rescue, let me know, I'll come get them."
Since they had literally just been born, the fierce little sweeties were incredibly tiny when Clanay brought them home with her!
"They looked like baby hamsters, actually. They were really, really tiny."
Lucky, it turns out, was actually the underdog runt of this lot.
Since all the pups in the litter were already the size of a button mushroom, Clanay took one sad look at Lucky and said:
"This dog's not gonna make it."
The likelihood of him making it to the next morning was extremely slim, but she still decided to give him a fighting chance.
Sadly, Lucky's stronger brothers and sisters didn't pull through. The runt of the litter actually ended up becoming the lone survivor of this backyard breeding tragedy.
She had worked so hard to save them all, and this heartbroken foster mama wasn't about to let Lucky bounce across the rainbow bridge. She was determined to save him.
"Lucky" for her, this fierce little fighter wasn't ready to knock himself out of the ring just yet, either!
Clanay knew in her heart that Lucky was a super trooper the moment she brought him home.
He was having problems latching onto a bottle, but he had the "will to drink" and would lap up teeny droplets of life-saving liquids from a syringe.
It wasn't until he was a week old that Clanay finally breathed a heartfelt sigh of relief. That was the moment she let herself believe that the pup might actually pull through!
After two weeks, when Lucky started to stand up, take his first walkies, and open his eyes, Clanay thought to herself that:
"Let me just get him to 8 weeks old, and you know, we'll be good."
Things turned out to be more than just good!
Lucky kept growing and growing, and he even started to tackle squeaky toys that were three times his size.
Even though he was growing up and getting bigger and better by the day, there were still some major challenges that Lucky had to face.
At two weeks old, Clanay found out that Lucky was blind. The vet told her that he might lose his eye, and when he was four months old, that's when it was removed.
But that only one this one-eyed gizmo looks even more adorable! That permanent wink of his gives him a great excuse to be quite the flirtatious little fella.
Lucky has absolutely no fear and has adjusted to his cool new cyclops-puppy life just fine.
Oh, and in case you hadn't noticed, he's also albino. But that's hardly a challenge when you're the ultimate doggo survivor!
Clanay says that Lucky can handle anything, and doesn't let anything hold him back. When he's sick, he's still wagging his tail!
Lucky is one happy pup, and is as cuddly and lovable as any "normal" dog out there.
But, who wants to be a run-of-the-mill normal pooch when you could be Lucky?
View this post on Instagram
Today, Lucky is a happy-go-lucky eight-year-old pup. He loves hanging out with his family, including his new baby sister Mia. Lucky has such a wonderful life, and after his tough beginning, it's so great to see.
Check out Lucky's incredible story in the video below!
Please SHARE this with your friends and family.
Jenny Brown is a senior writer at Shareably. She is based in San Francisco and can be reached at
[email protected]