While wandering through your local grocery store and seeing all the different animal products, the thought of where all this food comes from may pop into your head.
What cow did this beef come from, what pig this bacon?
One man was so curious about where his quail eggs come from that he decided to try and find out.
He purchased a pack of the tiny eggs and set about trying to hatch them himself.
He set up an incubation station and kept the eggs warm for a few days before checking to see if any other them looked like they might contain a chick.
He found one that had signs of life and cared for the egg until a chick eventually hatched from it.
The man named this chick Albert and he loved it intensely, caring for the little bird its entire life until, at the age of 2, Albert passed away.
2 is about average for quails and the man knew it was coming, but nevertheless was heartbroken when Albert died in his hands.
7 years later, while in his local grocery store, the man saw more quail eggs for sale and decided to try again.
He went through the same process of warming the eggs and then checking for life signs as he did the first time around, and this time, there was one viable egg out of the bunch.
He cared for this egg and watched it hatching, helping a little along the way as the tiny chick was awkwardly positioned in its egg.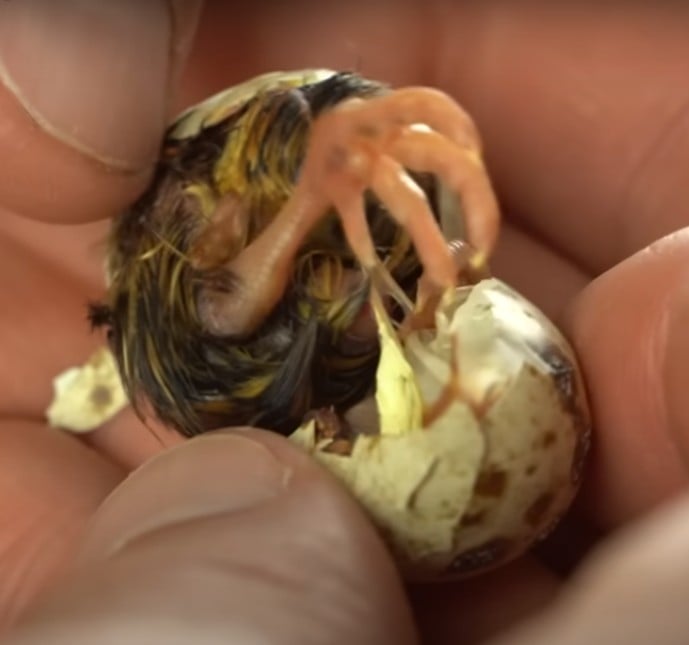 He named this chick Albert 2 and took the same great care of it as he did its namesake.
To keep the baby bird warm immediately after its birth, the man kept the chick close to him at all times, he used his breath and body heat to keep the chick comfortable.
The little creature loves to curl up in its dad's big hands, or to nuzzle in around his neck using his beard as a little nest.
Albert 2 grew quickly and is now a full-grown quail, though he is still babied immensely.
He goes everywhere with his dad, from walks around the neighborhood to chores on the farm, Albert 2 is always there.
He has made friends with some of the other barn animals, including sheep and chickens, but he knows he is the favourite.
His dad has found many similarities between the 2 Alberts, in both look and personality.
He also, however, sees their differences.
Albert was a little less brave than Albert 2, who likes to venture a little farther from his dad than the original did, but he always makes sure they can see each other.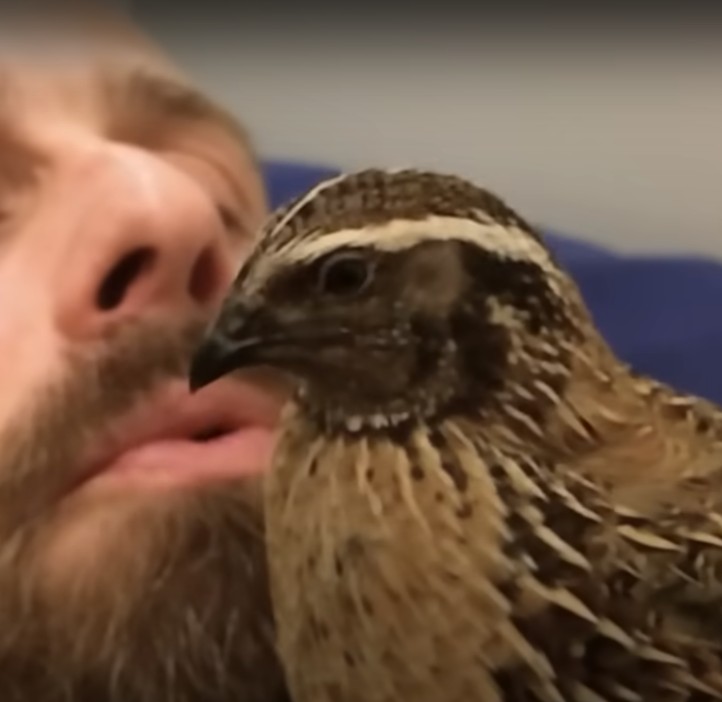 While his dad still has plenty of time left with Albert 2 as the bird is still quite young, the man is already prepared that the day will come when they have to say goodbye.
Though he knows heartbreak is imminent, the man has no regrets about his decision to hatch and raise these chicks himself.
He loved Albert and continues to love Albert 2 greatly, and looks forward to experiencing a more exciting life with this little bird than he would do without him.
Meet Albert, Albert 2, and their caring dad in the video clip linked below
Please SHARE this with your friends and family.
Megan Bennett is a contributor at SBLY Media.