It's the most wonderful time of year, a time of giving and making memories with loved ones. And this includes your furry loved ones too!
Dogs love Christmas — after all, they get to enjoy lots of fun presents and time with their family.
But some dogs don't have the same holiday experience as others.
Those stuck in shelters feel lonely and forgotten. Thanks to Santa Claus, that's changing for one animal shelter in Romania.
He believes that all dogs should have a wonderful Christmas. So, he brings them bags of goodies to enjoy…and boy, do they.
This tradition has been going on for years.
Every Christmas, Santa visits Sava's Safe Haven to help shelter dogs get into the holiday spirit.
In 2012, a veterinary technician named Alexandra Sava, along with other family members, opened the shelter. Today, it's home to more than 250 dogs, cats, bunnies, and birds.
For these remarkable people, Christmas is all about giving and that includes all four-legged and feathered friends.
To them, the shelter animals are more like family.
As the Christmas season starts ramping up, either Alexandra's brother or father dons a Santa Claus outfit.
As she explained, "We do this because some of the shelter animals are here for over 6 years. Unfortunately, due to various reasons, their chances of adoption are low, and they deserve to feel the spirit of Christmas!"
Santa always brings amazing gifts.
Not only does Santa show up to love on and cuddle with the animals, but he brings bags of goodies.
With donations coming from people around the globe, the Sava family can give these beautiful creatures new toys, yummy treats, food, blankets, and various other presents.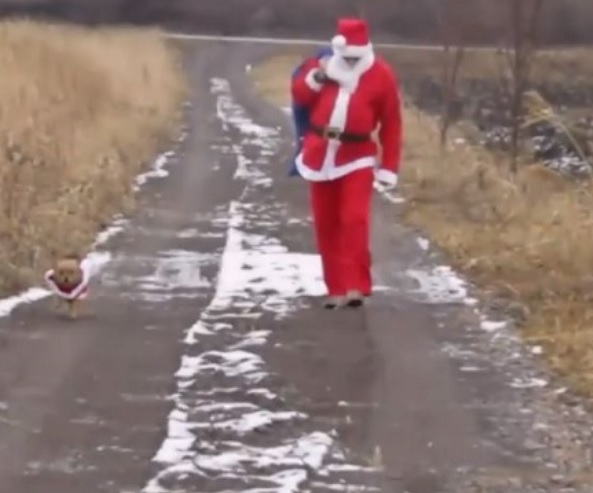 The goal is to give every animal at the shelter a better life until they're adopted.
People in Romania and beyond are so impressed with what the Sava family does to help animals that they freely donate.
In fact, it's those very donations that built the shelter and allow it to thrive today. With the money received, the animals are fed a healthy diet and receive excellent veterinarian care.
The funds also help with repairs around the shelter as needed. This family also gives back to the community.
It's not just about receiving but also giving.
Throughout the year, the Sava family organizes different projects to assist other pet owners within their community.
The social programs created make it possible for pet owners in the southeastern part of Romania to get food and vet care at no cost to them.
Anyone can help this and other shelters.
You know, Santa has a sleigh led by reindeer so he travels quickly around the world.
Or, people could do what the Sava family does and have someone represent Santa. After the Christmas holiday, people can donate items, as well as money. Every donation matters.
If you love animals, consider volunteering around the holiday season. It's a great way to give back to the community.
Get some inspiration from this adorable video of Santa visiting a shelter below!
Please SHARE this with your friends and family.
Source: Good News Network, YouTube
Patricia Lynn is a senior writer at Shareably. Patricia is based out of San Francisco and can be reached at
[email protected]