Hooves are crucial to a horse's life, health, and well-being.
A horse's hooves provide shock absorption and support, and they even help them in their circulatory system.
Poor health conditions of the hooves could result in many health issues, such as trouble walking, running, wounds, infections, and emotional problems.
That's why when Julia Cesario saw Stella's condition, she felt disappointed and sad for the poor mini horse.
Cesario, according to her profile, is just your average girl who loves animals.
In fact, she owns a big farm in Springwater, ON, named Freehand Farm.
She takes care of horses, pigs, chickens, donkeys, and other beautiful animals.
Cesario and her trusted team were called to a farm last year.
It was a farm of an elderly couple who admitted that they could no longer take care of their horses.
They saw one brown horse, whose name was Bear, and two mini horses, Stella, and her mother Teetee.
Bear was malnourished, but Stella's case was far worse.
She had overgrown hooves so the poor mini horse could no longer run, or even walk properly.
Stella had to lift her feet up every step so that it wouldn't hurt that much, but still, each step was a challenge.
She had matted hair, and overall, their condition was not good.
Even in this condition, Cesario said all three horses were super sweet. She was so excited to bring them to her farm and help them.
Once there, Cesario allowed them to settle in.
She also needed to keep them separate while setting up the necessary appointments.
The day came when the farrier visited her farm. There was a lot of work to be done.
They were ready, but it still surprised them how resistant Stella was.
Cesario, the farrier, and some staff had to assist in order to work on Stella's hooves.
According to an interview with The Dodo, that one session took two long hours.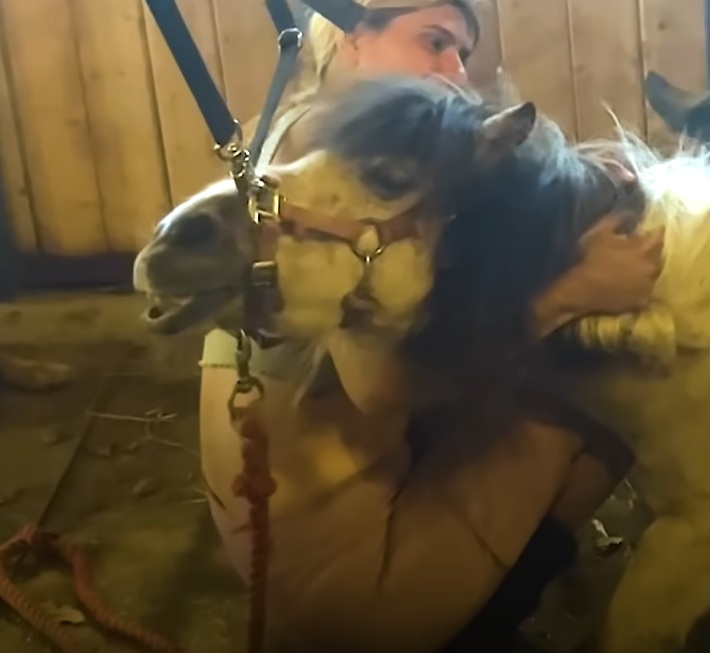 They did the best they could to trim and work on Stella's hooves. They were very careful and made sure to minimize the mini horse's stress.
Cesario also said that while they were really long, there was only minimal deformation.
It made the entire ordeal a lot easier for them, and, of course, for Stella.
After the procedure, everyone was teary-eyed as they saw Stella trying to walk like she used to.
"Oh, you don't have to lift your feet so high anymore," Cesario said.
After a few steps, it was like Stella finally understood what was happening.
She could walk without pain!
In no time, everyone cheered as Stella did so many laps. She missed doing them and now she can run anytime she wants!
Stella was so happy!
Whenever the farrier visits, she would welcome him and allow him to work on her hooves.
Cesario is just so happy that she was able to help transform Stella's life.
Cesario is so thrilled to have Stella in her life, and she plans to give her the happiest life possible.
Watch the beautiful rescue and transformation of Stella below.
Please SHARE this with your friends and family.
Ma Fatima Garcia is a contributor at SBLY Media.