What will you do if your animal companion gets lost? How will you find them?
Brent Chadwell and his girlfriend, Laura Romero, live in Cape Coral, Florida, with their five-year-old Solomon Island Eclectus parrot, Tiki.
Tiki has lived with Brent since he was still a baby and had to be fed with a dropper.
"He's super friendly and super sweet," Brent described Tiki. "He doesn't scream, he doesn't fight. He talks and makes cute little noises all day. He's really hard to dislike."
Needless to say, they're attached.
Normally, they keep Tiki's cage open.
They do this so he can come and go as he pleases. It was also open that day when Laura cleaned the house.
She must have forgotten that it was open and she opened the door so she could sweep the outdoor deck. Tiki must have seen the open door and flown by her.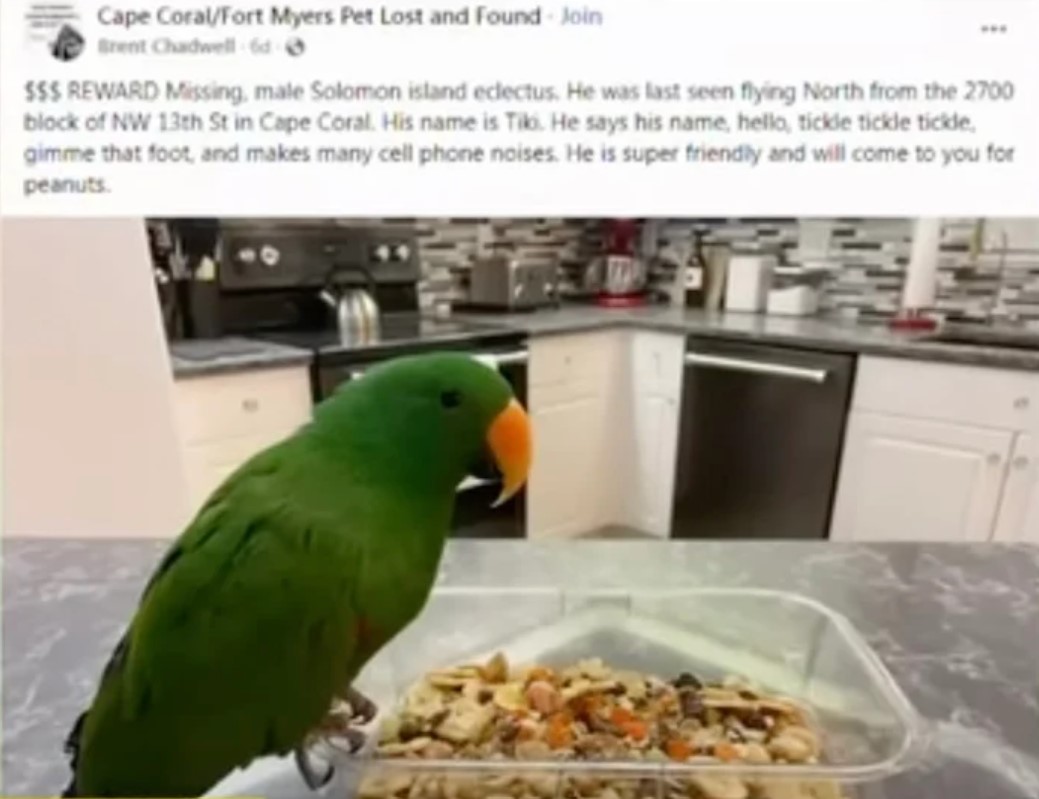 Tiki went missing for 3 days.
Brent was worried they might not see him alive anymore.
"He would just walk right up to an alligator and get eaten," Brent explained. "He has no concept of, 'Oh this thing might try to eat me so I have to get away from it.' He's only been cuddled or loved."
For the next three days, Brent and Laura went around and asked their neighbors if they had seen Tiki.
They posted on their social media accounts and different groups to look for their parrot.
Brent was devasted.
He said Tiki brought so much joy to their house. He said Tiki was always talking and saying things like "Peek a boo," "Tickle, tickle, tickle," and even "Hello," or "Hi."
Or he would imitate the sounds he would hear around the house, like the washing machine or alert tones on a mobile phone.
Brent was losing hope that he'd ever find Tiki alive.
Meanwhile, in a house, just a quarter mile from Brent's, Reed Schweizer and his family were having drinks after their Easter Sunday dinner.
They were enjoying their time together when they heard an unfamiliar voice.
"All of a sudden, I hear from behind me, 'Peek a boo,'" Reed said. "With a cocktail in my hand, I'm thinking to myself, 'Birds don't talk.' Then I hear it again. I hear 'Peek a boo!' again."
It was Tiki.
Brent said that was how Tiki talked to people whenever he needed help.
It's a good thing Reed's sister was a veterinarian and she was able to bring Tiki to the pool bathroom to take a photo.
They posted the photo in the hopes that they'll find the owner.
The prodigal bird
15 minutes later, Brent saw the post.
He couldn't believe someone found Tiki in one piece.
"I started crying as soon as I saw that picture because I knew that was Tiki," Brent said. "The fact that we found him a quarter mile away after three days is a miracle."
Brent was thrilled Tiki was home.
He told others not to lose hope if they ever lose their pets.
"If you lose a pet, don't give up," Brent shared. "Keep searching, keep posting, keep talking to people, and you'll get it home."
Learn more about Tiki's Easter weekend adventure in the video below!
Please SHARE this with your friends and family.
Jaclyn Abergas is a contributor at SBLY Media.