When you hear about police officers looking for escapees, then you most probably think of a chase involving weapons, patrol cars, and definitely someone who will be facing charges at the end of the day.
Well, not necessarily. At least not when it comes to Marietta, Georgia's PAW Patrol.
PAW jokingly stands for Puppies Aimlessly Wandering, and now you know what this is all about.
Indeed, these officers from Marietta Police Department are dedicated to rescuing pets that have gone missing.
Just like what happened a few months ago, when six puppies escaped from a fenced property and started wandering in the streets of Marietta.
"SIX puppies in a fenced area decided to make a prison break this morning and got out onto Cobb Parkway near the Big Chicken before their humans realized what had happened," the MPD shared in a Facebook post at the time.
Luckily, the skillful officers were alert and didn't lose any time.
They started searching for the six runaways, and soon spotted them, and took them back to their owners.
"ALL six escapees were 'captured' and successfully reunited with their humans," the post goes on.
Thanks to officers led by the "senior puppy whisperer", officer Covino, the six puppies returned home safely and their owners couldn't be more thankful to them.
People who saw the post on social media loved the story and they didn't forget to praise the officers for their good job.
"Oh my goodness. I'm so glad y'all got those dangerous, vicious, suspects off our streets. The furry offenders might have licked someone to death! Each and every one is clearly '…bad to the bone,'" someone joked.
Some of those who commented below the post made sure to point out how cute both the puppies and the officers were.
I mean, what's hotter than a man holding a puppy, right?
On a more serious note, the MPD seized the opportunity to remind pet owners to provide collars for their furry friends with their Id cards on.
At the same time, they urged them to make sure that their fences are "escape resistant" in order to prevent their pets from running away and possibly risking their lives.
Additionally, the American Kennel Club highlights the importance of microchipping our canine and feline friends to increase the possibility of finding them again if they go missing.
Microchips carry a unique identification number, and the procedure followed to get your pet microchipped is no more invasive than having it vaccinated.
When registering your dog's microchip, it's a good idea to give both your cell phone number and your landline to make sure you won't miss a call saying they've found your dog wandering in another neighborhood.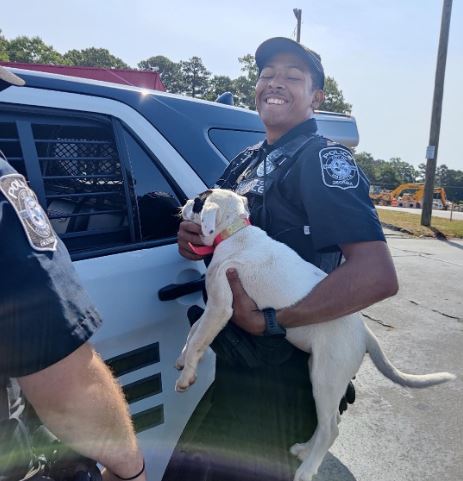 This story was too cute, and it's not the only one involving cops and pups.
A few years ago, an officer visited a shelter to check on an issue an employee had, and he ended up leaving with a new furry friend.
You can find out more about his story below!
Please SHARE this with your friends and family.
Source: YouTube – Inside Edition, AKC, Facebook, The Animal Club
Irene Markianou is a contributor at SBLY Media.