Does are one of the animals with great maternal instincts.
Their care for their fawn is not like the usual protectiveness of a mother, where they always stay on guard beside their little one.
Instead, they are one of those animals that keep a safe distance from their young.
A mother deer would usually leave their fawn when she goes hunting.
Does believe that if they stay with their baby deer, they're only leading predators to them.
So, they leave them in one place as they look for food and return to where they left their fawn when it's feeding time.
That being said, fawns should be left alone when humans see them.
However, there are times when we should go and save a baby deer when we see them alone.
These instances include if they're left in a dangerous area (where predators are possibly lurking), injured, crying, or in a wet area.
While deer can survive most damp or flooded areas, it's not the ideal location for them.
That's why this man was hailed a hero when he heard an animal crying in a flooded area.
It's a short video, but it will make you appreciate the effort of one man who heard an animal clearly in distress.
So, he stopped by and took the extra mile to ensure it was safe.
Ormond heard a bleating cry in a flooded grassy area along the road.
It sounded like a baby animal was distressed, scared, or hurt.
He took off his shoes and walked barefoot in the flooded area.
He approached the crying animal one step at a time.
The water was knee-deep, but he didn't mind.
Ormond went nearer and saw a fawn crying in the flooded area and approached it gently, not to scare the poor animal.
However, the scared fawn moved farther away. Still, he did not give up.
Once again, Ormond moved towards the crying fawn and finally scooped it in his arm.
He walked back towards the road and carried the baby deer to safety.
The fawn was probably spooked because it kept moving in his arms.
It kept bleating and kicking, scared and confused about what was happening.
Ormond held it tighter and kept talking to the fawn, assuring the poor animal that everything was okay.
Then, he released the fawn nearby in a safer area so it could reunite with its mother.
It's a short video, but it went viral earning 2.5 million views in days.
The YouTube and Facebook videos posted by We Love Animals had the same numbers – millions of views, shares, and comments.
While some people raised their concerns that he shouldn't move the fawn so its mother could find it.
But given the circumstance, Ormond did the right thing.
People commended Ormond for going above and beyond to help the fawn.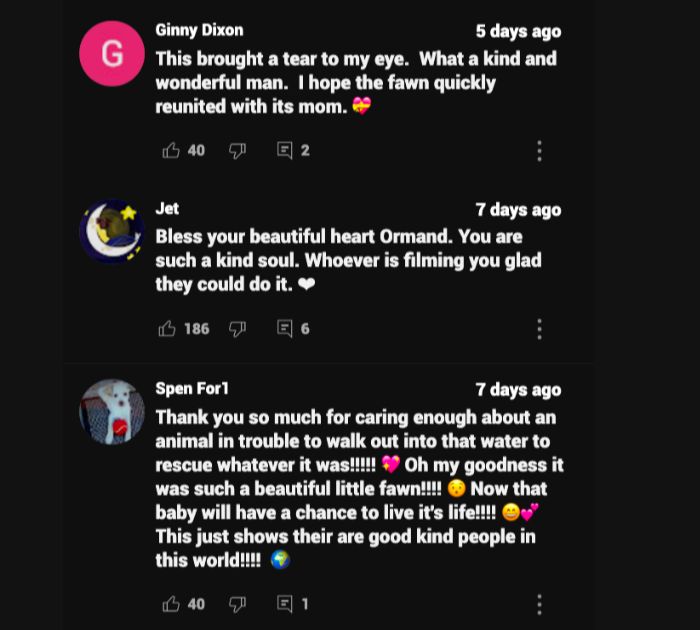 Most of them applauded him for his empathy, kindness, and concern for the poor animal.
If it wasn't for him, that fawn might be in more danger than it already was.
Watch Ormond's fantastic rescue of the fawn in the video below.
Please SHARE this with your friends and family.