It's not easy for any animal momma to be pregnant and living on the streets.
Thank goodness Mama Kerry was found and brought to a shelter. She was near the end of her pregnancy and they found her hiding under a car.
It was such good timing, too, because she gave birth soon after at the shelter.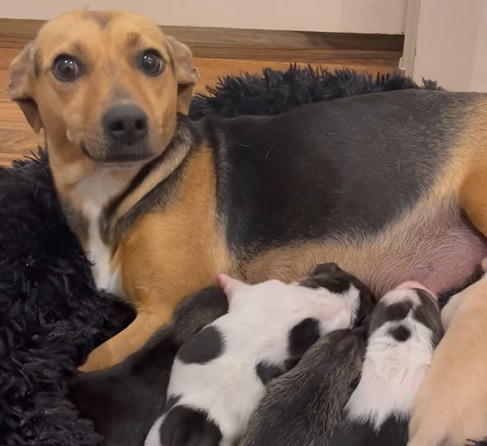 Mama Kerry gave birth to five adorable puppies.
They were turned over to the Hearts & Bones Rescue group so they can take care of Mama Kerry and her puppies, Cork, Clare, Carlow, Tipperary, and Roscommon.
"Kerry and her babies settled right in," Katherine Hieber of Hearts & Bones Rescue told The Dodo. "Kerry is incredibly resilient and seemed happy to have a safe place to care for her pups."
Mama Kerry loved having people around her to help her with her babies.
She must have been so worried when she was still living out on the streets, pregnant and alone. It's a good thing she doesn't have to worry anymore.
So many people are eager to help her make sure her puppies are doing okay. Unlike other dog mommas, she actually lets other people take care of her babies.
She even lets people hold her paw while she's nursing her babies.
This makes it easier for the fosters and rescuers, especially when they need to take the puppies for their latest weigh-in or when they need to be checked by the vet.
"She is extremely affectionate, so if you're around, she'll make it known how much she loves being close to you with kisses or a paw shake," Katherine Hieber shared.
Mama Kerry is so grateful that she can still be around to watch her puppies grow in a safe environment.
She doesn't need to worry about where they'll sleep or where to get food. She doesn't need to worry about other dogs or people chasing them and hurting them. With their rescuers, they can just relax and be dogs.
View this post on Instagram
That's what Hearts & Bones Rescue is about anyway.
They operate in Dallas, Texas, and New York City and has a big network of fosters, rescuers, volunteers, and adopters. They rely heavily on fosters to provide a temporary and loving home for their rescues.
This is the heart of Hearts & Bones Rescue.
They use a foster-based rescue system and make sure their rescues are in loving homes before they go to their forever families.
The rescue group has arranged for Mama Kerry and her puppies to be transferred from Texas to their foster family in New York City. They're going to be showered with so much love, kisses, and hugs.
Whitney Fang and Anna Blumbert, founders of Hearts & Bones Rescue, are passionate advocates of dog rescue and adoption.
They believe in and encourage fostering to help the rescues find their forever homes. It's also a great way for those who want a dog to test the waters before they commit to taking care of a dog forever.
This mama dog and her puppies are too sweet. We hope they find their right forever home very soon.
Check out a cute video of the mama dog below!
Please SHARE this with your friends and family.
Jaclyn Abergas is a contributor at SBLY Media.