This little boy wanted a pit bull for Christmas. Santa heard him.
Nolan was so happy and grateful that he wrote a thank-you letter to Santa. Would you like to read the letter?
"Dear Santa, thank you for bringing me my new best friend, Brooklyn," Nolan wrote.
Brooklyn was rescued by Wags and Walks, a rescue shelter focusing on "stereotyped bully breeds, medical dogs, and mamas + puppies that are often overlooked and at-risk due to overcrowding."
When they rescued Brooklyn, she was also pregnant and about to give birth. At the shelter, Brooklyn gave birth to eight babies.
She took care of all of them, making sure they were fed and happy. She took care of them until they all found their forever homes.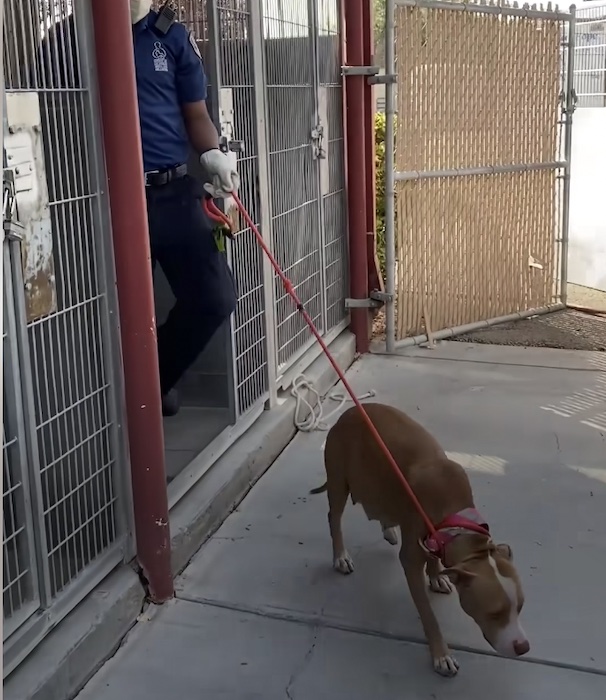 Now, it was mama Brooklyn's turn to find her home.
"Mama Brooklyn didn't have anywhere to go… thank you, Santa, for bringing her to our family," Nolan continued.
When Nolan and his family met Brooklyn at the shelter, she just kept licking them and hugging them. Brooklyn loved giving hugs, too, when she wasn't playing with her family.
And that's what Brooklyn and Nolan did, all day long, play and have fun with each other.
Emily Whitehouse, head of training and behavior at Wags and Walks, always encourages families to adopt dogs for their own benefit.
"There are so many wonderful benefits to adopting a dog when you have children! Dogs teach children empathy and the responsibility of caring for someone else," Emily explained. "Owning a dog can be a great bonding experience for the whole family."
Nolan's family, and especially Nolan, plays fetch with Brooklyn. They all go on walks together.
Brooklyn spends a lot of time kissing and licking Nolan. Sometimes, it looks like Nolan doesn't like it, but then he laughs and you know he's enjoying it, too.
Brooklyn loves to spend time outside and jumps up and down in happiness when she sees birds. She tries to look for them to play with, but Brooklyn never seems to find them.
Just like Nolan, Brooklyn loves getting and playing with her toys.
She got toys for Christmas and absolutely enjoys playtime with these toys. There's one more thing Brooklyn can't get enough of — cuddles.
She loves to sleep and cuddle with her family.
Adopting dogs or pets, in general, is great for children because it teaches them responsibility. They learn how to feed them, bathe them, walk them, play with them, and know how to recognize their needs.
Having and growing up with dogs help children learn to trust and respect.
All these things they learn are things they carry with them as adults, too.
"Thank you for the best Christmas miracle I could ever, ever dream of. I promise we'll make this the best forever home for our Brooklyn girl," Nolan promised. "Merry Christmas, Santa. Love, Nolan."
Would you like to meet Nolan's best Christmas miracle? Watch the video below.
Please SHARE this with your friends and family.
Jaclyn Abergas is a contributor at SBLY Media.