Animals belong in their natural habitat. Wild animals belong in the wild (obviously).
Taking them away from their habitat could affect them in so many ways. For one, it could stunt their growth, especially if they are caged most of their lives and not given the proper food.
It also affects their behavior and mentality towards people and other animals.
But the biggest concern is that they might not learn basic survival skills.
Take leopards, for example. They hunt their prey to survive and learn to move around the wild to protect themselves from predators. However, they might never know to do that if they're bred in captivity.
Bono would have been in that danger if it weren't for concerned authorities.
He was bred as a pet in Latvia for more than a year and never learned what it's like to live outside the four walls of his owner's apartment.
He grew obese, maybe because he was just caged in compared to those in the while who could run around. They also found that his previous owner had declawed him.
Authorities confiscated Bono from his owner and imposed a fine on him.
They sent him to Riga Zoo so they could plan to send him to AAP Primadomus, a non-profit rescue and rehabilitation organization for primates and wild animals.
It is located in Spain and driving there would take almost two hours. Thanks to AAP's staff, led by Robert, they transported Bono in time.
There was also the added challenge of the snowstorm.
They must drive through bad weather, passing by different countries with ever-changing weather conditions in each one. But they were determined to help save Bono and return him to his home.
Robert drove non-stop for two days, stopping only to provide food and water for Bono.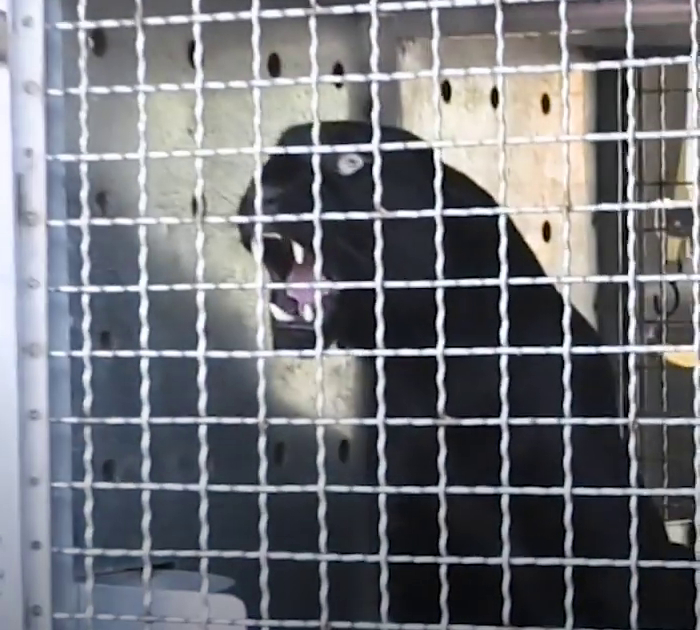 The poor black leopard was getting agitated at the back of the truck, scared and confused about why he was there.
Robert knew the best solution for this was to release him as soon as possible, making it imperative that they drive straight to the sanctuary.
They made it in time, and the AAP staff ensured Bono's full recovery.
He was quarantined for a few days to gather enough strength to go out of his cage. They also monitored his health, ensuring he had no disease or virus that could be transmitted to the other animals.
After a few days, Bono finally took his first steps to freedom.
You can see how he hesitated for a bit, sniffing the air on what was waiting for him outside that cage. Then, he let one paw out and immediately felt like he belonged there. They allowed him to walk freely in a controlled environment until his full rehabilitation.
The organization is happy they helped this poor animal from his miserable state.
They knew Bono still had much to learn about living in the wild to survive, but they were in no hurry. They're happy to host this beautiful animal and shower him with all the love and care until he is ready to go to his forever home.
Watch Bono's journey in the video below and follow AAP Primadomus Europe for updates!