Imagine stepping into your garden and being greeted by the local wildlife—it's quite the charming scenario!
From the tiniest insects to the most majestic birds, and even the occasional wild visitor, it's always a delight to witness nature in action.
Deer, with their fondness for the greenery, often find themselves snacking on garden trees and bushes, much to the fascination of homeowners.
These gentle creatures are particularly drawn to the perennial delights of juniper, hawthorn, spicebush, and various fruit trees.
They don't stop there — flowers like sunflowers, geraniums, and asters are also on their gourmet list.
If you're someone who's planted these in your backyard, you might have played host to these lovely visitors without even knowing it.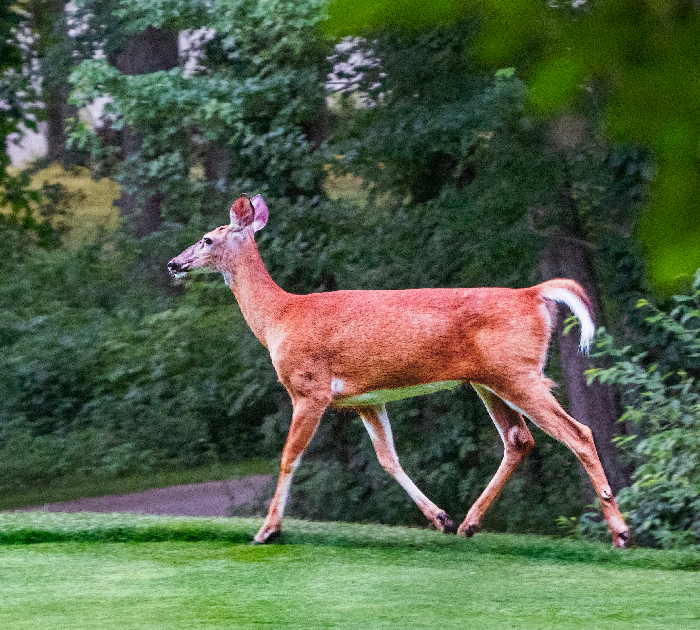 Take Kim and Stan, for instance, a couple living in a neighborhood frequently visited by white-tailed deer.
Their yard is a regular stop for these deer, and they've grown quite accustomed to their presence.
While Kim enjoys a good chat with their four-legged guests, Stan prefers to shoo them away.
Their doorbell camera, typically a security feature, has become their window to these wildlife interactions.
The camera's two-way talk feature has turned into a communication channel with the deer.
One such endearing encounter even captured the hearts of nearly half a million viewers online.
The footage shows a deer, nose deep in the bushes, savoring the green feast before it.
It was just another day when Kim received an alert from their doorbell camera.
Upon checking, she found their deer friend munching away contentedly.
Deciding to engage, she greeted the deer with a friendly "Hey! What are you doing?"—a question that seemed to bewilder the unsuspecting diner.
The deer, caught off guard by Kim's voice yet seeing no one around, stared curiously at the camera.
Its ears perked up, tuning into the source of this mysterious human voice.
When Kim playfully inquired, "Are you eating my bushes?" the deer appeared almost guilty, frozen in the spotlight of attention.
There was a moment of silent admission from the deer, a gulp that betrayed its nervousness.
But Kim, with her gentle demeanor, reassured the deer, "it's okay."
That's when Stan chimed in with a more protective stance, "Don't eat my trees." Kim, ever the mediator, reminded their guest, "Don't eat the trees; only those bushes."
Perhaps feeling a tad embarrassed for being caught in the act, the deer decided to retreat.
It gave a final glance back at the camera—a silent farewell—and ambled off.
This simple yet sweet interaction was precisely what made the video a hit among viewers.
The comments section overflowed with appreciation for the peaceful scene, highlighting Kim's kind approach and the deer's gentle nature.
What a sweet scene, and we're sure the deer felt comfortable there.
For those seeking a dose of wholesomeness, check out the full video below!