When two young girls were lost in the woods, it was their golden retriever named Artemis that stayed by their side to protect them.
Mary Bourg began to worry and called police after the her little girls didn't come home after the sun had set.
"I'd been running around our property — we live on six acres — and I was calling for them," Mary told TODAY.com. "Usually they come running with Artemis leading the way."
The thoughts in her head were also running. She worried if the girls, Abigail, 7, and Cecilia, 4, fell into a creek near their Folsom, Louisiana home or if they ran into some wild hots.
"I had the worst thoughts. I just didn't let those thoughts stick around very long because I couldn't handle that," Mary Bourg told WWL.
After calling the police, she reached out to the community on a local Facebook page to see if anyone had seen her girls.
Thankfully, the mom's children were returned to her within four hours thanks to Artemis.
Helicopters, drones, K-9s, and ATVs had all been deployed to find the girls.
Dad Justin Bourg explained:
"Originally, I was very confident we were going to find them in the woods. That's their favorite place to go play but once hour three, three and a half was kind of creeping up on us on the clock I was getting more dark thoughts."
Still, the family kept the faith until the girls were found about 300 t0 400 yards from the house.
It turns out the girls had wandered off into the woods near a pond with their dogs and got lost.
Abigail was found lying on top of the dog holding his collar. Apparently, the dog allowed her to lie on him so that she could rest.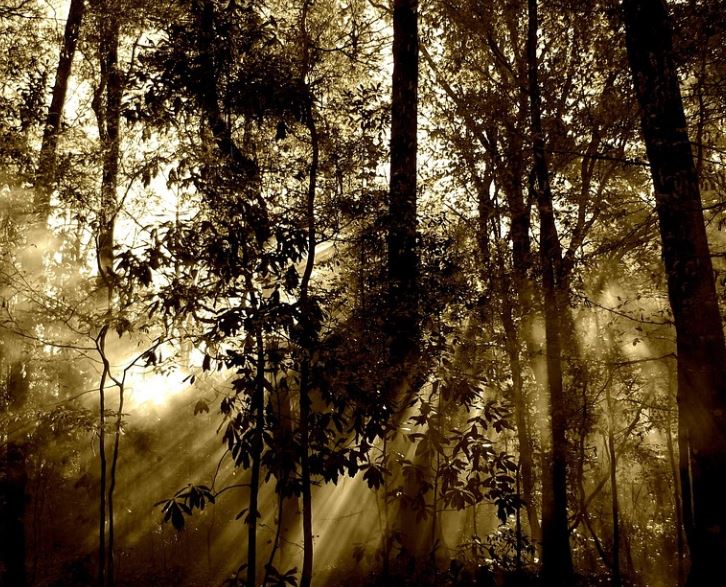 Cecilia was found cuddled up lying with her head on Abigail's stomach. Artemis started to bark with rescuers were in the area.
Artemis' barking was also how they were able to find the girls.
Artemis became very hostile, pouncing, barking, and growling to protect the girls. He was taking his job as their guard dog very seriously.
Neighbor Rooster Cowart believes that Artemis also protected the children from an "aggressive wild hog."
Coward says he came across the hog while searching for the girls.
"Those woods can be a scary place," Cowart said.
The family says they hope the girls will continue to explore and enjoy nature, but they will be taking measures to make sure the girls are safe while this happens.
As a token of their gratitude for protecting the girls, Artemis' family gave him a nice raw steak.
There's also been fans and community members who reached out to gift Artemis with treats.
He even got a blueberry facial from a local vet. But no one has been as grateful as the girls.
Abigail asks to sleep with Artemis every night.
"They've gotten much closer," Mary told TODAY. "It's like she understands what he did for them. Animals are a lot smarter than we give them credit for."
The girls' parents were also very thankful to the local fire and police departments, as well as all media and local community members who looked for the girls.
Learn more about this incredible story in the video below!
Please SHARE this with your friends and family.
D.G. is a contributing writer in Shareably. She's based in Connecticut and can be reached at
[email protected]