A pet should be a lifelong commitment. But sadly, there are sometimes reasons why you have to give a pet up.
And if that's the case, they should be taken to a shelter that can find them a new home.
One poor collie wasn't afforded that luxury.
It was January in Mechanicsburg, Pennsylvania, and a skittish-looking collie had been spotted hanging around a local park all by herself.
The poor thing must have been freezing cold, but she seemed to be under the impression that her family was going to return to pick her up again.
Concerned locals contacted Janine Guido, founder of rescue organization Speranza Animal Rescue, who immediately drove out to try and find the abandoned dog.
"She was staying in the same spot — as if waiting for her family to return. But they never did," Guido told The Dodo.
Guido knew that time was the essence, and in the freezing temperatures, it was important to bring the dog into safety as soon as possible.
But it wasn't going to be easy.
Every time Guido got close, the dog, who she named Clara, would back away before running into the woods.
Guido became increasingly more worried about the dog, and she took to Facebook to alert others about the situation.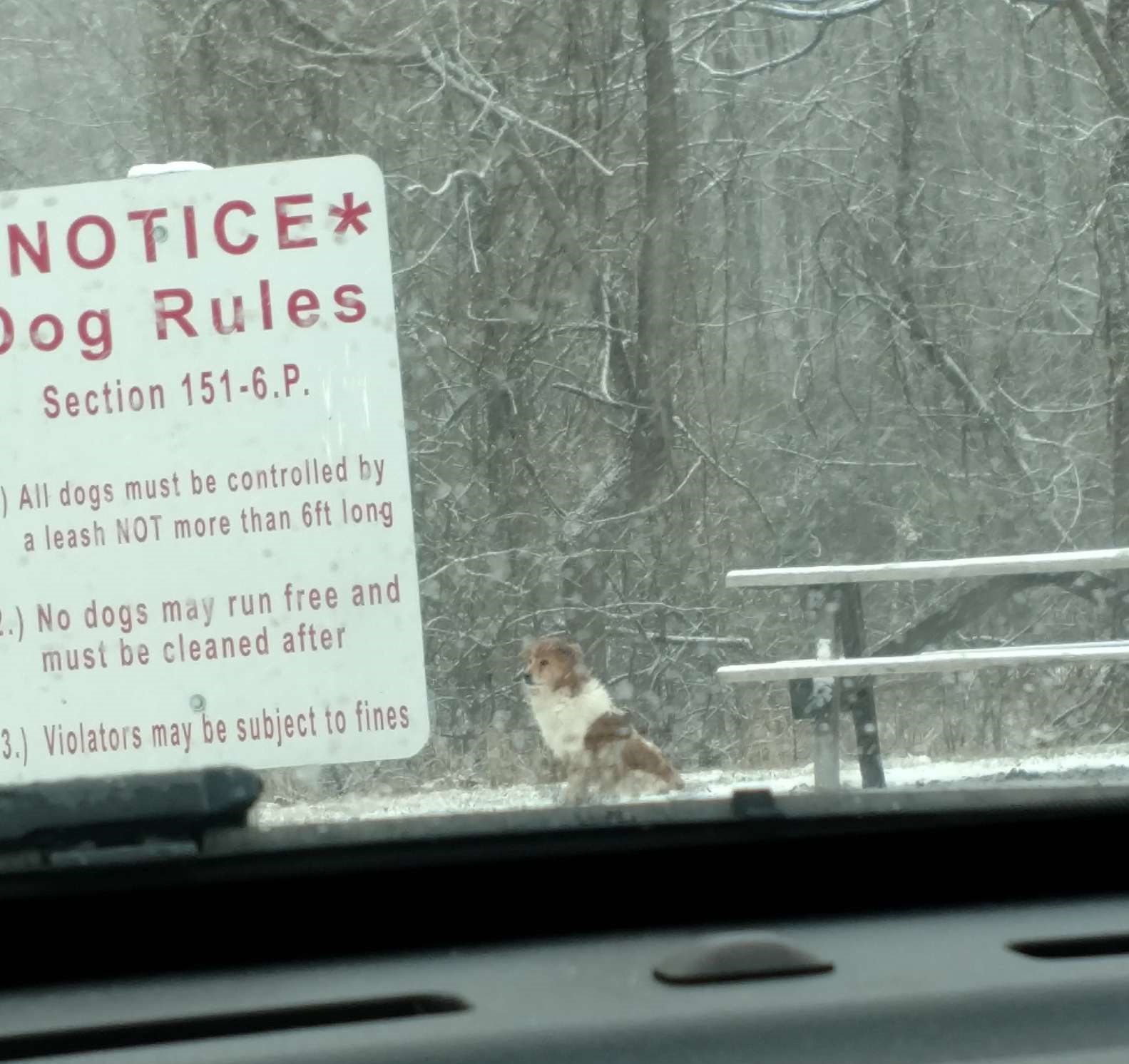 "Ever wonder what a dog dumped by her owners does?" Speranza Animal Rescue wrote on Facebook alongside some heartbreaking photos of Clara. "Sits and watches. Waiting for her family to come back."
As more locals found out about Clara, many of them wanted to help.
But even with the extra help, it still wasn't an easy feat.
Two nerve-wracking days passed where no one had sighted Clara. Guido began to fear the worst – until she was alerted to a new sighting.
Clara had been sleeping under someone's back porch, trying to keep sheltered from the cold.
Guido headed straight back out, and this time, she almost managed to rescue Clara.
Only at the last minute, the timid dog got spooked once more. A few hours later, there was yet another update. This one was in the form of a live video, shared from the Speranza Animal Rescue Facebook page.
"We got her! I'm so excited," Guido told her delighted followers. "Your new life has begun. You're safe now and we love you."
The video then pointed towards the passenger seat, where Clara was sitting, safe and sound.
So how had Guido managed to catch Clara in the end?
Apparently, she'd received a call of another sighting a few hours later in another residential area.
"I was able to have her follow me on to a porch," she said. "And the two other women blocked both entrances, so she could not escape. I leashed her and the rest is history."
A trip to the vet found that Clara was around 10 years old and was about 15 to 20 pounds underweight. Since she also had no microchip, there was no knowing where she had come from or who had dumped her.
Clara was so exhausted when she was eventually found that she could barely keep her eyes open.
Guido arranged for her to be taken to a safe and loving foster home where she could recover before being put up for adoption. Just look at that smile!
As this story shows, dogs care so much, and the least we can do for them if we have to leave them is bring them to a safe place.
Check out the video of Clara's rescue below!

Please SHARE this with your friends and family.