We've all heard of the "unboxing" craze on YouTube where vloggers open boxes of items to see what's inside of them.
But the "What's Inside?" YouTube channel by father and son Dan and Lincoln Markham is a bit different.
They focus on actually cutting "random things" open to see what it looks like inside or how it works.
The YouTube channel started out as a second-grade school project to see what was inside sports balls.
Their tagline is "We cut things open so you don't have to."
They've opened up things like a rattlesnake's rattle, a meteorite, a laptop, and sneakers.
Apparently, opening things and seeing what's inside is pretty popular because the father-son duo reportedly made about $6 million off of their YouTube channel, according to Nailbuzz.
Their channel has gotten over 1.2 billion views and gets about 80,000 views a day!
One of the family's most popular videos is of them cutting open a wasp nest.
The video featured Dan, Lincoln, and Lincoln's friend Kai. Dan said they attempted to get a wasp nest from their own backyard.
They found one with a lot of tiny wasps in it.
But those wasps needed a home, and the nest was too small for what they needed anyway.
Believe it or not, you can actually buy wasp nests online. Dan and Lincoln got theirs on eBay from someone in Wisconsin.
They were all excited when opening the box.
But once they did and saw the freaky-looking wasp inside, they got a little bit nervous. They hoped that they didn't see any wasps come flying out of it.
Lincoln was just generally grossed out by the thing. When it was finally taken out of the box, the nest was bigger than a soccer ball and basketball.
Dad was a bit uncomfortable with opening it indoors.
But Kai convinced him otherwise, and they cut it open on their table.
Dan took a few minutes to cut through the nest. It took some work to make it through.
Lincoln compared the material that the nest is made out of to very hard paper. Once opened, there were no bees that came flying out of it.
They did find each individual hole which was home to a wasp.
Lincoln was a little bit spooked, however. He had been stung by bees four separate times, and it was "not fun."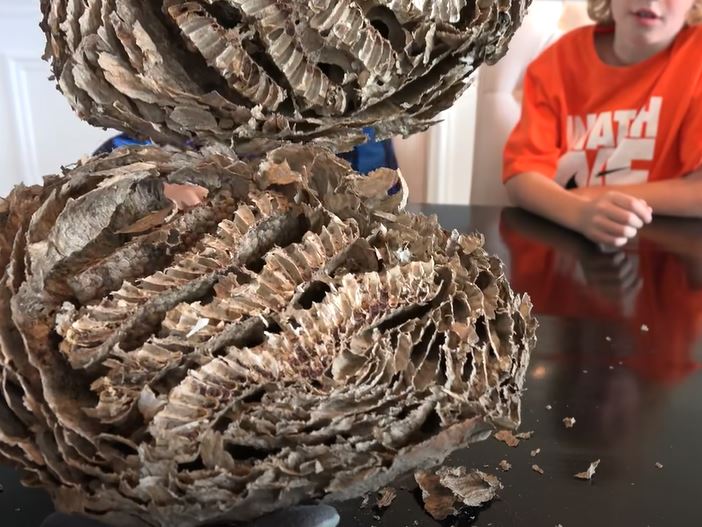 So he was a little wary of the nest. But Dad and Kai were completely fascinated.
They explored the nest for a little while before finishing up.
Now they had to clean up before mom saw the mess they made. There were little pieces of that nest everywhere. So, they had a lot of cleaning up to do.
"It's amazing how such small things build Something so big for their size And so carefully patterned It's pretty amazing," said a YouTube commenter.
Check out the video below for yourself to get a close look at the giant wasp nest!
Please SHARE this with your friends and family.
D.G. is a contributing writer in Shareably. She's based in Connecticut and can be reached at
[email protected]