An unbelievable transformation that is beyond comprehension.
Finding hope in a hopeless place
In the vast expanse of dust and sand in Baja, California, a homeless dog was discovered, wandering alone and neglected.
This poignant encounter prompted a team of compassionate rescuers, led by Henry from Keeping Finn, to embark on a mission to capture the dog, despite its aloofness towards humans.
Fortune smiled upon them when the stray dog sought refuge within an enclosed property, inadvertently cornering itself. The rescue team seized this opportunity and managed to leash the dog, gradually earning its trust along the way.
A ray of hope
With the dog now in their care, they promptly provided it with a safe haven within their vehicle. They immediately spoiled the newfound furry companion with delectable treats.
They soon arrived at Los Adoptables Shelter, where the dog was gently placed in a kennel, revealing its pitiable condition—covered in mange and nearly devoid of fur. It was evident that the dog's health had suffered greatly; it appeared emaciated and weak.
However, within the embrace of its newfound guardians, the dog began its journey to redemption. As the days passed, its transformation was nothing short of miraculous. The once hairless, coyote-like creature blossomed into a handsome canine.
Its coat grew back luxuriously, it regained lost weight, and the mange became a distant memory. It was as if a different dog had emerged from the shadows of its former self.
Complete healing
The rescuers affectionately named the transformed pup Simba, and LB from The Animal Pad, a rescue organization in San Diego, California, offered to foster him.
Despite Simba's physical recovery, his fear of various stimuli persisted. The desire to keep his paws firmly planted on the ground compelled him to leap or hop at the slightest provocation. But as time wore on, Simba's walls began to crumble, and he gradually bestowed his full trust and love upon LB and her family.
Simba's newfound affection extended to hopping onto LB's lap, and before long, he evolved into a couch puppy. Three months later, the time had come for Simba to meet his forever family and embark on his permanent homecoming.
A new forever home and family
By a stroke of fate, Simba discovered that his forever family included a canine companion who bore an uncanny resemblance to him. It was a remarkable coincidence that only deepened the affection his new family felt for him.
Their unwavering dedication and passion for adopting Simba were evident as they welcomed him into their hearts and home.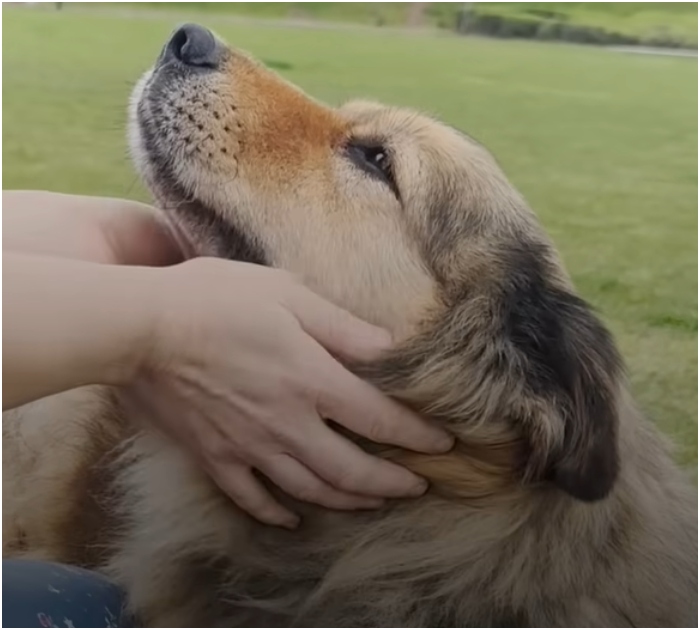 Two years after his rescue, Simba's path once again crossed with Henry, the man who had initiated his remarkable transformation. Henry was astounded by the sight before him—the thin, hairless coyote-like dog he had rescued was unrecognizable in Simba's transformed visage.
Radiant and handsome, Simba had found his happy ending, and everyone involved in his rescue story rejoiced at the incredible journey of growth and healing he had undertaken.
Watch the video below to see the unbelievable transformation of the dog, Simba.
Please SHARE this with your friends and family.