What will you do when you discover a litter of bobcats and their momma at your house?
Jim and Dayle Rose live in Allen, Texas.
They live in a residential street where nothing really happens until this time.
A momma bobcat and her litter of five bobcats have taken refuge in the Rose home.
They believe that the then-pregnant momma bobcat sought shelter underneath the Rose's deck.
This is where the momma gave birth and stayed ever since. Jim and Dayle were surprised when they found the tiny bobcats wobbling between their fence posts.
According to the Smithsonian's National Zoo and Conservation Biology Institute, "bobcats den in places protected from the weather, which can range from hollow trees and caves to spaces under dense shrubs or between boulders."
Jim said they were around six to eight inches long.
They were very shaky at first but pretty soon, they had made themselves at home.
The kittens were jumping around the furniture and dubbed their wooden deck as their scratching post.
It's cute for now but they are nothing like a housecat.
For one, they will grow up and join by about three months, they will join their momma when she hunts.
They've already been pre-hunting and leaving the remains of dead rats and rabbits in the Rose's backyard.
Jim and Dayle don't go out into their backyards anymore, especially since the momma bobcat is out there.
She has got such a ferocious look that you don't want to know what will happen when you get her mad.
"I don't want to look like I went through a paper shredder," Jim joked.
Nevertheless, Jim and Dayle feel it's such an honor that the momma decided to give birth on their property.
Even so, Jim and Dayle know they are not safe while the bobcats are on their property.
Neither are the dogs and cats in their neighborhood safe while the family of six continues to stay with them.
"There are small dogs and cats roaming all over this neighborhood. I'm telling you they're prey, literally," Jim mentioned.
The bobcats need to be relocated somewhere they can thrive and away from their prey.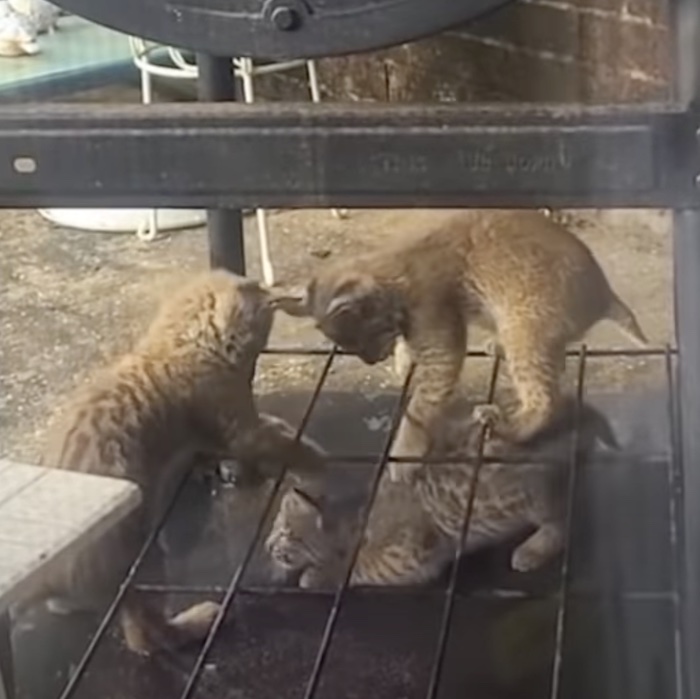 It's not an easy process Jim and Dayle would find out.
"It would make me very very happy for someone to come and relocate these animals somewhere," Jim shared. "We called the Allen Police Department, the fire department, the veterinarian, a shelter. We called the state of Texas, wildlife and game. Everyone tells me the same thing. Nothing can be done.
Unfortunately, animal control facilities will only come to relocate the animals if the animals are sick, injured, or aggressive.
Relocation of wild animals doesn't work like rescuing stray cats and dogs.
If the people from the facilities forcibly remove the animals from their habitat, it could cause stress that could result in their passing.
The most that Jim and Dayle can do is to naturally encourage the bobcats to relocate.
Easier said than done, right?
Hopefully, they can get it done!
Meet the rambunctious bobcats in the video below.
Please SHARE this with your friends and family.