Stray dogs are a problem in many countries, though how this problem gets dealt with varies from culture to culture.
Though America doesn't have as many strays as other countries, ours often get picked up by animal control and end up in shelters unless someone has the heart to adopt them and give them a home.
One café owner in Greece is dealing with stray dogs a little differently.
The café is called Hott Spott and is based out of Mytilene, Lesbos.
Though it's just your standard cozy coffee shop during the day, the location opens its doors at night to let in all kinds of furry friends who don't have homes.
The staff even lets the pups sleep on the couches to make themselves as at home as possible.
In an interview, Niki Belissary, the owner of the café said:
"We have been here for 26 years and have always been an alternative place for people to meet."
And while the restaurant closes for human customers, it's never closed for the dogs.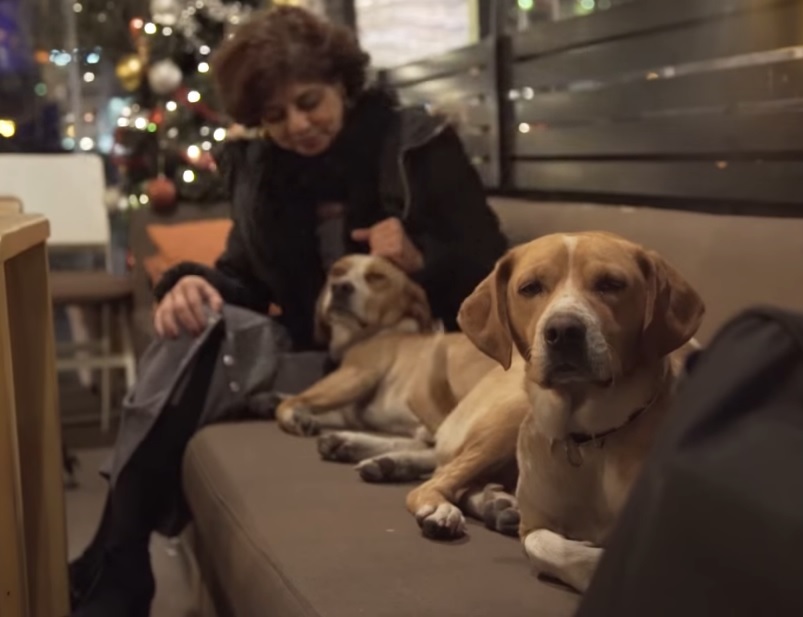 According to the restaurant's staff, the city where the coffee shop is located has many stray dogs.
In fact, Greece, as a whole, is said to be home to roughly 1 million strays.
As a result, there is a real need to make sure the problem is taken care of and that all of these animals are kept safe.
While the café's open-door policy is certainly warmhearted, it also reflects Europe's different attitudes toward stray dogs more generally.
As the head of Athens' Stray Animal Service explains:
"In most European countries, they solve this problem with euthanasia. But Greek culture is against that. Our law is about rehabilitating the dogs."
The approach seems to be working—and the dogs in question don't seem to have any complaints, either.
Though the fine folks at Hott Spott are setting a great example, more businesses must try to follow in their footsteps.
Dogs serve as incredible companions to human beings and have enriched our lives throughout the years—it's only fair that we extend a helping hand to those in need.
And, after all, having plenty of cute dogs around can only be good for business, right?
Click the video below to learn more about this amazing café!
Please SHARE this with your friends and family.
Sources: HuffPost, Indy100, YouTube – StoryTrender, YouTube – The Quint
Jenny Brown is a senior writer at Shareably. She is based in San Francisco and can be reached at
[email protected]