While household pets like cats and dogs usually enjoy the love and attention of their owners, farm animals often get the short end of the stick.
As Rolling Stone points out, "There are laws in every state barring cruelty to house pets, but almost none that safeguard farm animals."
Organizations like PETA have been vocal about this issue, using shocking visuals and high-profile stunts to grab the public's attention.
However, some activists have chosen a more constructive approach to highlight the plight of these animals.
One such instance was captured in a heartwarming video published in August on Gut Aiderbichl, a German YouTube channel.
The video showcases the sheer joy experienced by a bull named Bandit, who had spent his entire life confined to a cramped, steel enclosure.
Contrary to popular belief, cows and other farm animals are far more emotionally complex than we've given them credit for.
Daniel Weary, a professor in the Animal Welfare Program at the University of British Columbia, revealed in a 2014 study that cows can suffer long-term psychological effects due to early life traumas.
As the Daily Mail elaborated, "The cows he studied were deeply affected by the emotional and physical pain of early separation from their mothers and dehorning, which changed the brain in a way that led to a negative cognitive bias akin to pessimism."
Weary's research also found that cows like Bandit, who live in isolation, exhibit heightened levels of anxiety and perform poorly on cognitive tests.
This is noteworthy because it suggests that Bandit was fully aware of his miserable existence, living each day in utter despair.
But unlike countless others, Bandit was fortunate to get a second chance at life.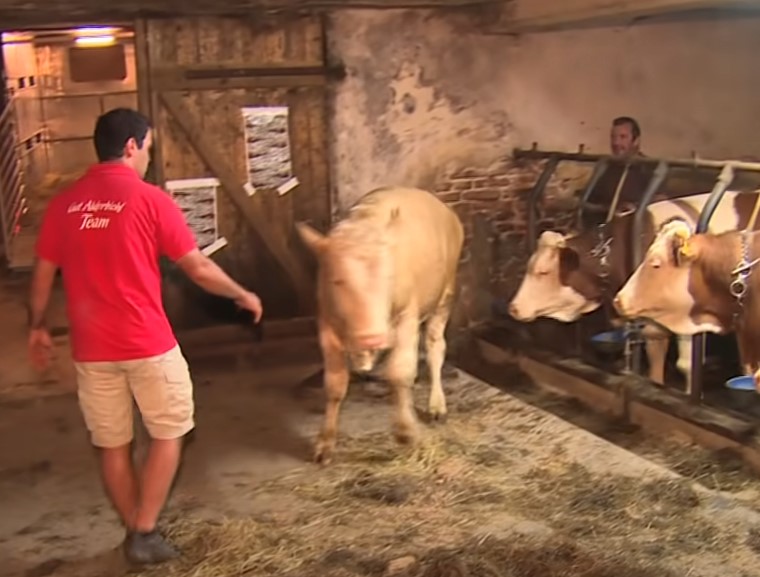 The video, which has been viewed a staggering 32 million times, shows a sanctuary worker driving to the dismal facility where Bandit was kept.
Upon entering, Bandit instantly locks eyes with the man and gently licks his hand, as if understanding that this stranger could be his ticket to freedom.
The sanctuary worker couldn't simply turn his back on Bandit.
Once the bull is set free, his reaction is nothing short of exhilarating.
With newfound energy, Bandit jubilantly kicks up his heels, clearly relishing his first taste of freedom.
After his joyful escapade, Bandit is transported to his new home.
There, he continues to explore his surroundings and even takes a moment to personally thank his rescuer, completing his journey from a life of misery to one of hope and freedom.
See this heartwarming moment in the video below!
Please SHARE this with your friends and family.
Article Sources:
YouTube – Gut Aiderbichl