Dogs can be very talkative. Sure, we may not be able to understand them, but that doesn't always stop them from chatting away. And boxers are famously one of the most talkative breeds.
For proof of this, check out this adorable video of a white boxer named Felony.
Felony and her dad were enjoying a beautiful day at the park. Instead of being happy that her dad took her to the park and that she got to spend a beautiful day outdoors, Felony threw a fit when it was time to go home.
Exactly like a little child does when it's time to go home from the park.
Her dad, who goes by the name fgemellaro on YouTube, decided to cut their day at the park a little bit short because he wanted to get home in time to watch a Houston Texans game on TV.
He ushered the pretty boxer dog into the car, but she was NOT a happy camper. As soon as she got into the car she began to protest, vocally and loudly. Again, just like a child.
"Hey, nobody wants to hear all that," fgemellaro tells his dog.
That's when she really starts complaining!
She starts with a bark but then starts flapping her jaw and letting out these long yowls.
It's as if she's actually arguing with him.
"You shut it up!" her dad tells which causes Felony to just yelp louder.
Her face even looks a little bit sad and pouty.
She continues arguing with her dad throughout the entire video as she tries to make a point and convince her dad to take her back to the park.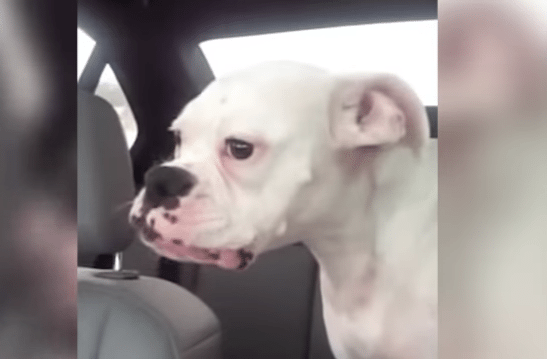 YouTube Screenshot

Source:

YouTube Screenshot
Then her dad asks her if she wants to go watch the Houston Texans game. Her face seems to perk up a bit as she looks over at her dad and doesn't say anything.
"I guess she's a Texans fan!" her dad tells the camera.
She starts to yowl a little bit, but she seems to be a lot happier.
She must be talking about how awesome the Houston Texas game is going to be and what a big win they are about to have.
Either way, this doggie dad definitely did not get the luxury of the whole "your pets never talk back," thing. This pup is quite vocal and absolutely hilarious.
This pup and her dad clearly have a lot of fun together, and we hope they enjoyed the game.
Check out the hilarious park-leaving video below!
Please SHARE this with your friends and family.
Article Sources:
Source: JunkinVideo