Most wild animals are misunderstood.
The mere fact that they're 'wild' tends to scare people.
However, these animals can be gentle giants, especially when treated right and in their natural habitat – not enclosed, enslaved, or threatened.
It would take a loving and caring human to see this other side of them, and expert knowledge, too.
Kimberly DeFisher was surrounded by wildlife and exotic pets most of her life.
For years, she has volunteered and dedicated her time and knowledge to rescuing wild animals in their locality and educating people about them.
She's also a state-licensed Wildlife Rehabilitator which allowed her to save, rehab, and raise injured and abused animals before they can be released back into the wild.
She founded Arctic Fox Daily Wildlife Rescue Inc. in 2020.
Kim found a purpose in saving these misunderstood creatures and giving them a second chance to live the life they deserved.
She focused more on rescuing Arctic and other foxes until she got her first wolfdog.
Kim got a call from the New York State Department of Environmental Conservation who needed help with a particular rescue.
The team confiscated several animals hoarded by a group of people who kept exotic animals, and people would pay to see them do demonstrations.
They called on Kim to ask if they could take in a wolfdog named Dakota, knowing she had experiences with wolves and foxes.
But not with wolfdogs.
But she took the chance and said she would take him in for a few days.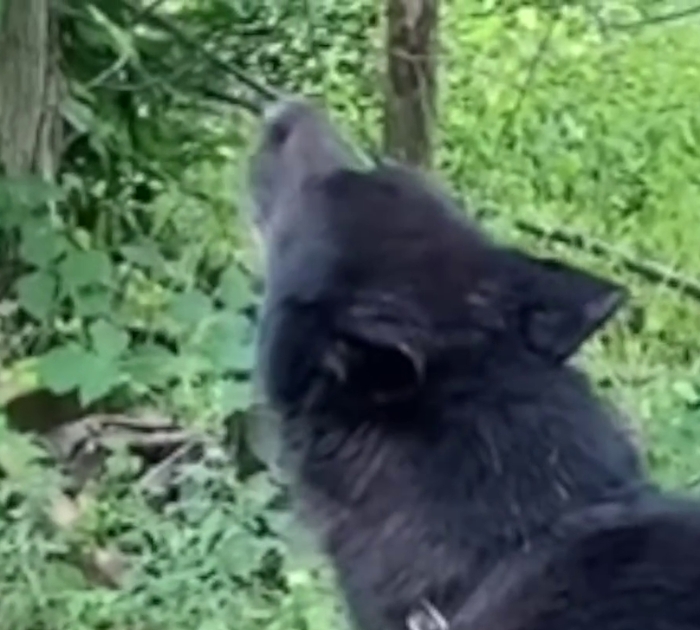 Dakota had this reputation for being a difficult dog, and Kim saw how big and angry he was when they brought him.
However, his personality took a massive shift when he stepped out of the enclosure and into his freedom.
Kim saw how Dakota turned from an aggressive dog into a sweet one.
He assimilated himself well with the rest of the wolves and foxes, and his body language was all she needed to know that he loved being in this haven.
Kim knew Dakota wasn't a temporary resident; he was meant to stay there forever.
They immediately formed a bond like no other.
Dakota would always approach Kim and give her hugs and kisses, but he's also very protective of her.
When she pretended something was wrong with her, Dakota was the first to check in on her.
It's incredible how such a misunderstood creature can be this gentle and loving.
Kim shared that people had this misconception of wolfdogs as aggressive animals.
"Oftentimes, the higher percentage wolf that wolfdogs have, the less chance they have of being aggressive. In general, wolves are very 'flight' rather than 'fight' animals. A wolf does not want to come up to you and have conflict unless it absolutely has to," she told GeoBeats.
After taking Dakota in, she added a few more wolfdogs to the pack.
The dynamics between all the animals she rescued all changed when Dakota arrived, and that's for the better.
Kim said that caring for these animals takes up much of her time, but she wouldn't have it any other way.
Watch Kim and Dakota's story in the video below.
Jenny Brown is a senior writer at Shareably. She is based in San Francisco and can be reached at
[email protected]