Every parent wants to have grandchildren.
They want little children to call them Poppy and Gramma or something cute.
It was the same situation with Frida and her parents.
According to Frida, her mother had five adult kids but no grandchildren.
She wanted grandchildren.
Now comes Frida to the rescue!
She and her partner, Maria, adopted a Staffy and named him Einstein.
Yes, they adopted a dog.
Now Frida's mother finally has a grandchild!
At first, Frida didn't want to get a Staffy because she believed they were not cute and too aggressive.
Well, guess what? Einstein proved her wrong.
When they saw Einstein for the first time, they just fell in love instantly.
When he arrived at his now-forever home, he knew he was meant to be there.
He just went onto his bed, laid there, and relaxed.
Over time, Einstein showed Frida and Maria why he wasn't just an ordinary dog.
He is a lovable dog and he will let you know it.
"He will crave our attention at all times. He will sit on our lap and he'll be so mad if we sit at the dinner table and he's not invited," Frida described Einstein.
Frida describes him as a drama king who loves belly rubs. How ironic!
Frida and Marie aren't the only humans who love Einstein.
Frida's mother loves Einstein!
In fact, she is obsessed with her white Staffy grandchild.
She would lie down on the floor with Einstein to give him belly rubs.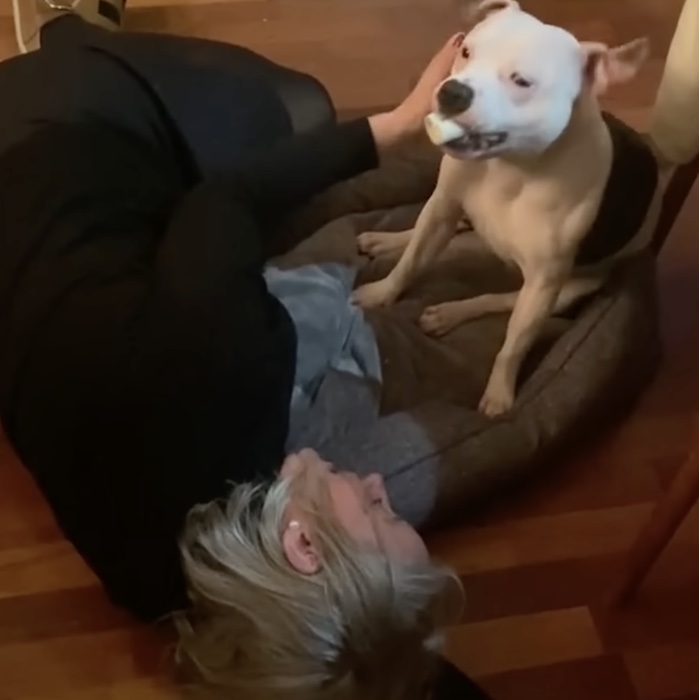 She would have a specific chair for Einstein at the dining table.
Frida had to move over and make room for Einstein's comfy chair so he could be with them for dinner.
Frida's mom doesn't allow Einstein to sit on a plastic chair because he will slide off.
"He walks around with her all the time. He is THE grandchild and I'm convinced she loves him more than she loves me," Frida described their relationship.
Einstein loves the attention he gets from the people around him.
When the holidays were over, Frida and Maria were worried when Einstein was left alone at home again.
He might act up or chew their shoes.
None of that happened, well, except for the acting part.
Somehow, Einstein found out there were cameras everywhere.
He really lived up to his name. He was so smart because he knew what he had to do now.
Einstein was going to face the camera and act as sad and as sorry as he could.
He wanted to guilt his parents because they left him alone.
Einstein is such a smart dog.
Frida and Maria definitely have their hands full with this dog.
They quickly forgive him though.
Once they come home, there's a big smile on his face.
He gets rewarded with belly rubs.
We, told you he's very smart.
Einstein is the one dog that proves the stereotypes of Staffies are not true.
"People think they're dangerous dogs but they are so loving. He brings us so much unconditional love. My entire life [now] revolves around him and he knows it," Frida shared.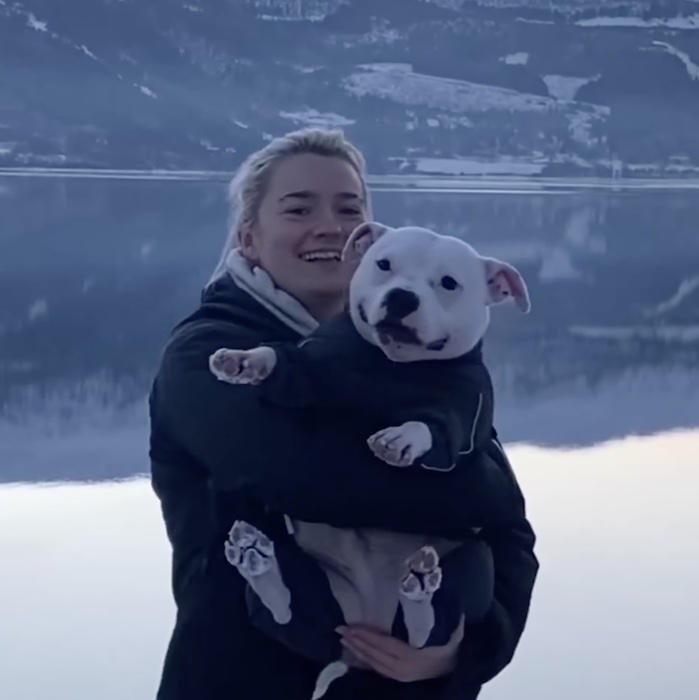 Meet Einstein and his moms and grandmom when you watch the video below.
Please SHARE this with your friends and family.