A lot of people believe that cats and dogs can never get along.
Well, it's a yes and no.
Yes because they have different body languages. While a dog believes raising a paw means they want to play, the cat believes this is a sign of attack.
Or when a cat rubs up against a dog's leg, they're just being friendly or marking the dog with its scent. But the dog might see this act as aggressive or a threat and growl at the cat.
If we, the human family don't notice these things, it can lead to animal violence.
It is possible to have cats and dogs co-exist and be friends in the same household. But we need to be patient because it will take time.
In Mia's household, cats and dogs live together. Mia lives with her internet-famous, Golden Retriever big brother Bailey, and she has clearly learned a lot from him about how to treat cats like friends.
That's why when the momma cat gave birth to her twins, Mia is already familiar with cats and knows she can get along with them.
And that's a good thing because these kittens are tiny!
Look at that tiny kitten playing with Mia. The kitten is as big as Mia's paw! Mia is such a good dog, though. She knows the kitten's so small and she could easily hurt the kitten.
She has laid herself down on the rug and let the kitten smell her and walk all over her.
Mia is such a patient dog.
How do you introduce dogs and cats to each other?
Start off by introducing each other's scents to each other. This doesn't mean letting them smell each other. This is not yet the time for that.
While they're in separate rooms, let them smell each other's scents using the things they use. You can have the dog smell the cat's bed and toys and vice versa for the cat. This is a crucial step.
Let them be familiar with the other animal before they're introduced to each other.
Now it's time to introduce them face-to-face. Don't just let them loose in a room and be confident that they already know each other because of their scent. You have to take it slow.
Use a material that will give them separate areas within the room.
Some people use a foldable metal fence. They can see each other but still keep their distance. They can sniff each other but the barrier will keep them from getting violent with each other.
Once they're ready, remove the fence but keep the dog on a leash.
The cat may want to remove itself from the situation if they're not ready and the dog may follow them.
Putting your dog on a leash ensures that they both have their space while they're still getting to know each other.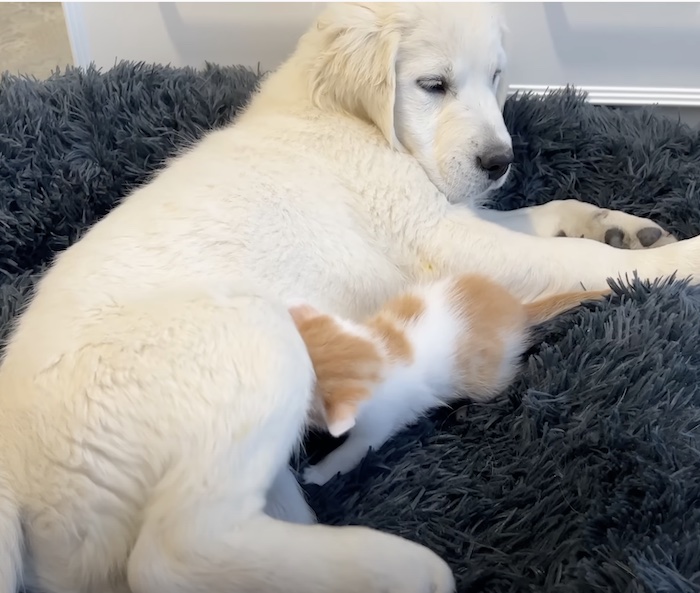 When you know they're comfortable with each other, remove the leash.
Watch them interact with each other. It's still a good idea to provide an escape route for your cat in case things go south.
And always have a human adult present with them in case anything happens.
So far, Mia and the kitten are having a wonderful time exploring each other.
The kitten is most curious about this big, hairy animal, while Mia wants to get to know her new friend a little more.
Apparently, the two other kittens from the same litter were down by Mia's back paws. This little kitten, however, wanted to get to know Mia alone. This way, this kitten got to play with Mia by themselves.
Watch this video below and prepare to ooh and aww at the friendship between these two.
Please SHARE this with your friends and family.
Jaclyn Abergas is a contributor at SBLY Media.