The Collin County Animal Services, a beacon of hope for lost and stray pets in Texas, has found a unique way to tug at the heartstrings of potential pet parents.
With over 52,000 followers and 1.4 million likes, their TikTok page is a hit, showcasing adorable adoptable pets in hopes of finding them forever homes.
Among the furry faces, one pit bull named Laurel became a shelter favorite.
Despite her extended stay, the staff had faith that Laurel's perfect match was out there, and they were right.
The day she had been waiting for finally arrived, and it was time for her to step out in style with a brand new collar.
The shelter was abuzz with emotion as they prepared Laurel's toys and got ready for a heartfelt farewell.
It was clear that Laurel had touched the lives of everyone there, and they weren't going to let her go without a proper send-off.
"This sweet girl wanted nothing more than to be loved. She is always so happy. Despite all that she has been through," read the caption of a touching TikTok video. The staff paused their day to come together for Laurel's freedom walk.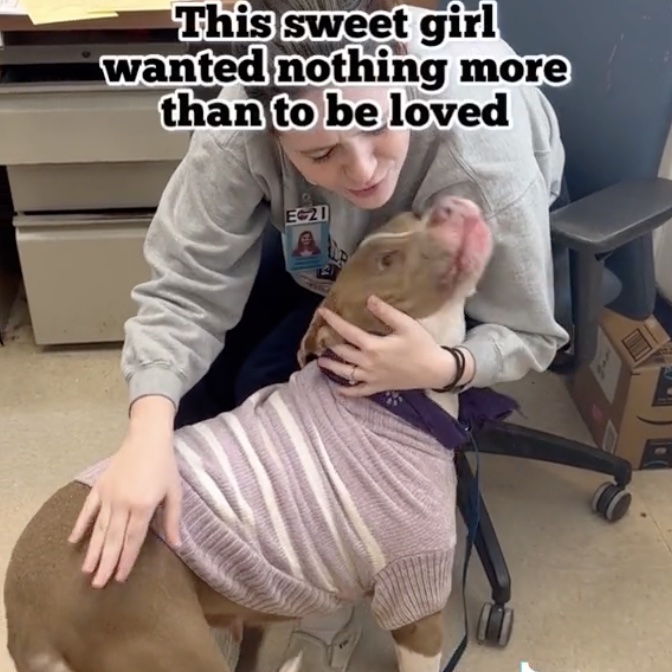 The moment Laurel stepped out of the shelter and into her new family's car was nothing short of magical.
With Christmas just around the corner, Laurel's adoption was the best present she could have hoped for.
This heartwarming journey was shared with thousands on TikTok, allowing everyone to partake in the joy of her new beginning.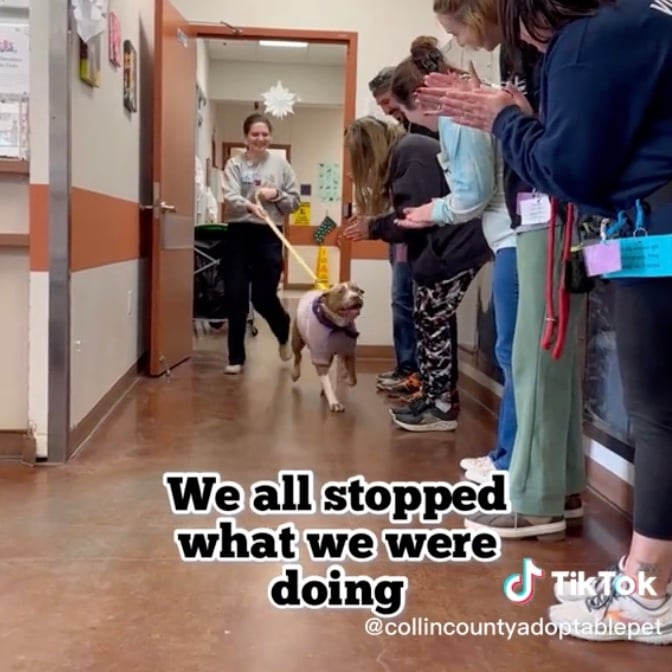 Laurel's realization that she had found her forever home was a sight to behold.
A huge, happy grin spread across her face, a clear sign that her days of anxiety in the noisy shelter were over.
The staff, who would often take her to a quiet room to unwind, knew that she would now have a peaceful, loving place to call her own.
The video capturing Laurel's adoption didn't just tug at heartstrings; it went viral, amassing over 7 million views.
TikTok users were captivated by her wagging tail, with one commenter noting,
"That tail was going all over the place," and another confirming that her tail's excitement went from "0 to 100 so fast."
The bittersweet nature of adoption was not lost on the TikTok community.
One user expressed the mixed emotions perfectly: "You're happy they've hopefully found their furever home but you're still sad to see them go. It must be so bittersweet for you."
The shelter, though, couldn't be prouder to see Laurel find her family.
Laurel's story is a testament to the love and dedication of animal shelters and the communities that support them.
Her "I got adopted!" smile is a powerful reminder of the difference a loving home can make.
The shelter encourages everyone to share Laurel's story, hoping it will inspire more adoptions.
Behind every adoption story is a team of caring individuals, and at Collin County Animal Services, volunteers work tirelessly to create happy endings like Laurel's.
If her story has touched your heart, pass it on, and who knows? Maybe you'll be part of the next happy tail.
Check out Laurel's happy ending in the video below!
Please SHARE this with your friends and family.

Source: collincountyadoptablepet, Collin County Animal Services