Lori didn't hesitate when she was offered an opportunity to serve as a foster mom for an abused beagle named Ella.
Ella spent her whole life in a cage being experimented on.
The Human Society of the United States says it rescued 4,000 beagles from a Cumberland, Virginia facility where beagles were bred and sold to labs where they would have had a short lifetime of pain, suffering, and isolation.
" Many people don't realize that an average of 60,000 dogs just like these are still used in laboratories each year," the Humane Society said. "The Humane Society will continue the work of promoting alternatives to animal testing so that this antiquated practice may come to an end,"
Poor Ella had no idea what freedom was like when she was rescued from the lab.
She was shaking like a leaf and absolutely terrified when Lori brought her home.
She didn't move for five days unless Lori brought her outside.
"I would have to carry her back in because she was so deathly scared of the wind," Lori said.
Ella would just sit in the same spot in the corner of the couch for days. But eventually, she started to come out of her shell.
She started to become playful and was pecking at the buttons on the back of Lori's couch trying to rip them off.
Then she began to play with Lori and jumped on her back. It was a huge milestone when Lori saw Ella wag her tail for the first time.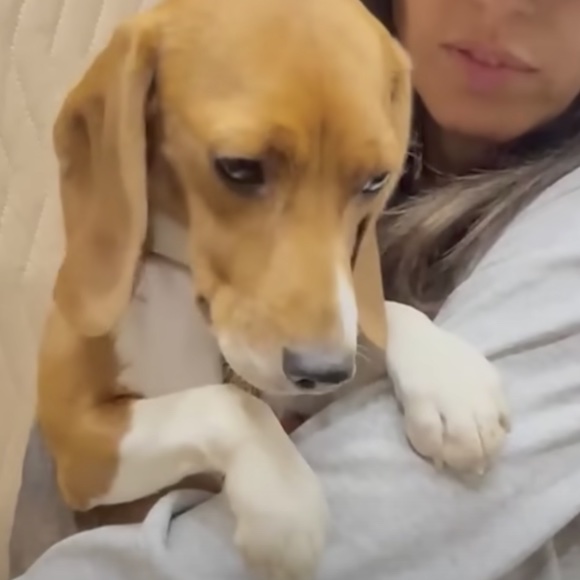 "Those little moments started to gradually become bigger moments," said Lori.
But Ella had a long way to go.
She didn't even know what a ball was. She had to learn that it bounces and roll.
Lori gave Ella an oversized tennis ball and she just barked at it.
But she eventually started to play and became a happy playful puppy.
She also didn't know what mirrors were. She would see herself and just start to bark.
Ella went from being completely terrified of life to a happy-go-lucky goof ball of a doggo in just four weeks.
Lori said that the transition was like "night and day."
"As a foster parent, it was so rewarding," Lori said.
After four weeks of being socialized and learning the ropes of life, Ella was ready to be put up for adoption to find a forever home.
Lori was in tears when she dropped Ella off with her new family.
Though she was sad to see Ella go, Lori was confident that this was a great family for Ella and that she would thrive in her new home. Ella also had another beagle to play with in her new home.
"I'm super excited for her new life. I'm so happy that she found her forever home. She, for the first time, got to experience what it's like to be in a loving family," Lori said.
Learn more about Ella's story in the video below.
Please SHARE this with your friends and family.
D.G. is a contributing writer in Shareably. She's based in Connecticut and can be reached at
[email protected]
.net.