It's a heartwarming notion to think of our pets as compassionate beings, capable of extending a helping paw to those in need.
This isn't just wishful thinking; the animal kingdom is rife with tales of creatures aiding their fellow beings.
From a piglet heroically nudging a goat to safety to canines rescuing their pack from treacherous waters, and even a poodle that became the herald of a kitten in distress, it's clear that animals possess a profound sense of camaraderie.
The story begins with an astute poodle whose keen senses detected something amiss.
In California, the animal rescue group Hope for Paws received an urgent message: a kitten had unwittingly hitched a ride within the confines of a car engine.
The poodle, belonging to a passerby, sensed the kitten's plight and promptly alerted the humans around.
The rescue was no small feat.
The Hope for Paws team faced a skittish kitten, wary of human touch, nestled within the car's engine.
Initial attempts to coax the little feline out were met with resistance, as the kitten sought refuge under another nearby vehicle.
Persistence paid off when the rescue team managed to corner the kitten under a different car, blocking any escape routes.
With swift action and quick reflexes, the Hope for Paws representative was able to safely secure the kitten, now out of harm's way.
Once the kitten, affectionately named Axle, was extracted from its mechanical hiding spot and cleaned up, it revealed a playful and affectionate nature.
To help Axle adjust to a life among humans and prepare for a future family, he was placed in the care of Cat Connection Los Angeles for fostering.
Hope for Paws, an organization dedicated to rescuing neglected animals, occasionally steps in to save creatures like Axle in unexpected predicaments.
They use their rescue videos to shed light on the stories of these animals, with the ultimate aim of finding them a permanent home.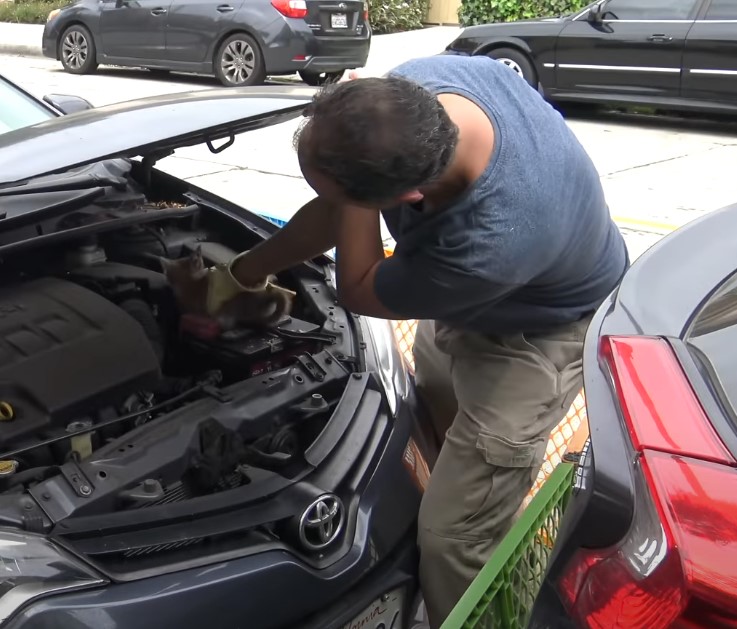 The tales of animal heroism are not limited to Axle's story.
Consider the Labrador retriever who, upon noticing two senior dogs adrift in a canoe on a fast-moving river, leapt into action.
The dog bravely swam out, seized the canoe's rope in its jaws, and towed the imperiled dogs to safety.
Another rescue involved a piglet and a goat.
When the goat found itself struggling in the water, its bleats for help were answered by a piglet.
Without hesitation, the piglet plunged into the water and, with determined strokes, pushed the goat to the safety of the shore.
For a glimpse into the heartwarming journey of Axle's rescue and his transformation into a lovable, playful kitten, be sure to check out his video.
See this suspenseful moment in the video below!
Please SHARE this with your friends and family.