In the lush landscapes of Yorkshire, U.K., there's an artist whose canvas is as wild as it is wonderful.
Robert E. Fuller is not your average wildlife photographer; he's a craftsman of living art.
By transforming his garden into a bespoke wildlife habitat, Fuller has made his home a magnet for the creatures he so loves to capture in his art.
Fuller's garden is more than just a patch of green; it's a stage where the drama of nature unfolds, providing endless inspiration for his paintings and projects.
He's a vigilant observer, studying the intricate behaviors of his animal visitors to breathe authenticity into his work.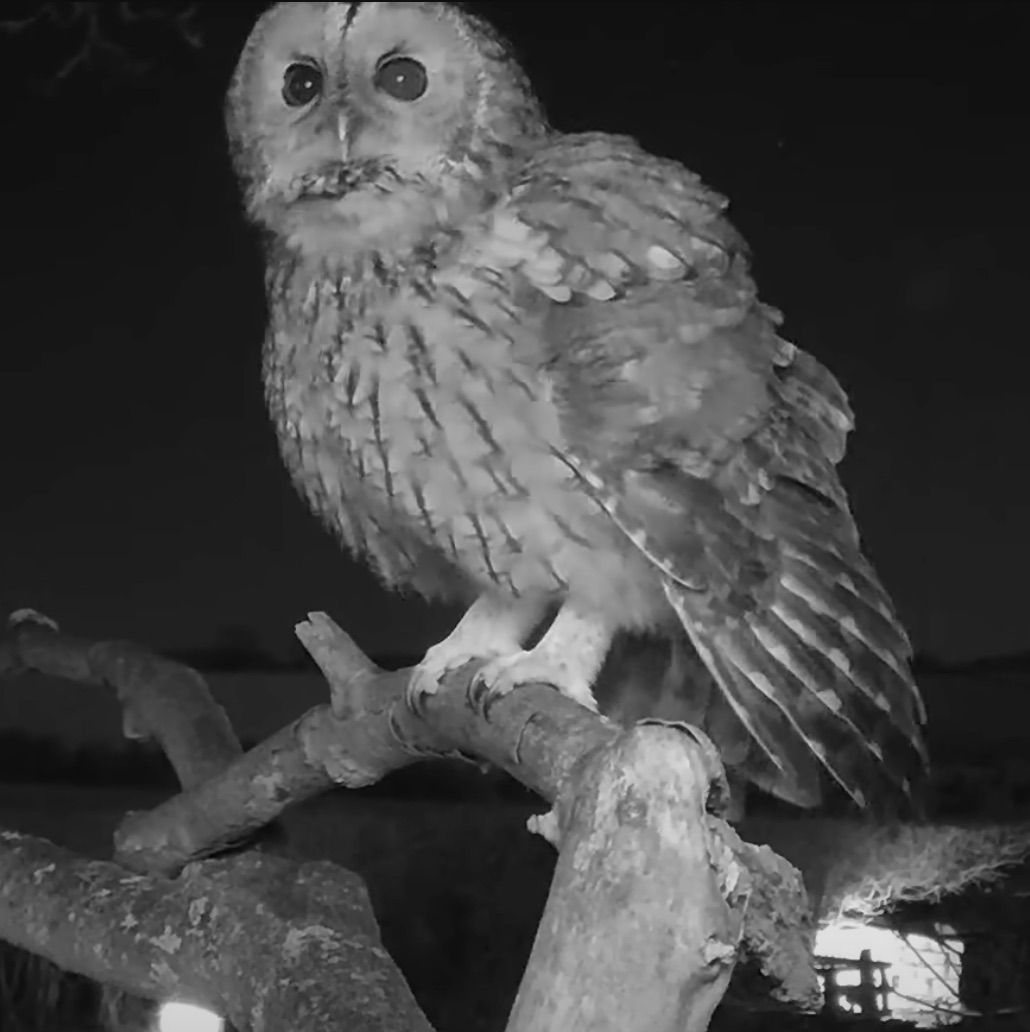 Among the feathered friends that Fuller has taken under his wing are the owlets—those fluffy emblems of wisdom and mystery.
"I regularly place orphaned or lost owlets into tawny owl nests and these birds accept the young chicks as their own. Their urge to protect and nurture is strong," Fuller reveals, giving us a glimpse into the tender side of nature through his YouTube narratives.
Tawny owls, the species that Fuller often assists, are fascinating creatures.
Native to the woodlands of Europe and Asia, these owls are known for their distinctive 'tu-whit to-whoo' call, a duet between the male and female.
They're mostly nocturnal, with keen eyesight adapted to low light conditions, and their soft-edged feathers allow for near-silent flight—a trait crucial for hunting.
Luna, a tawny owl with a story that tugs at the heartstrings, is a testament to Fuller's dedication.
Rescued as an orphan, Luna was adopted by resident owls at Fuller's sanctuary.
Under their care, she grew into a healthy adult, her feathers a soft brown mottled with darker shades, typical of her species, and her eyes a deep, soulful brown.
Luna's natural instincts to mother were strong, yet her own attempts at rearing chicks were met with misfortune.
For two years, her eggs remained unhatched, leaving her nest silent.
The previous year's loss only compounded the sadness. But the rhythms of nature often find a way to balance the scales.
When Fuller discovered two owlet siblings in dire need of a mother's care, he thought of Luna.
With a gentle hand, he placed the owlets in Luna's nest, stepping back with bated breath.
Would Luna's instinct recognize these strangers as her own?
The answer came swiftly and softly.
Luna returned to her nest, her gaze falling upon the tiny, vulnerable balls of fluff.
Without hesitation, she drew them close, their tiny bodies disappearing under the shelter of her wings.
This act of 'brooding' was more than just warmth; it was acceptance, protection, and love.
Fuller's heart swelled at the sight.
Luna, once the orphan, was now the protector.
"This means that after a long wait, Luna the tawny owl is finally a mum," he wrote, a note of triumph in his words.
And Luna wasn't alone in her new role; Bomber, her mate, was quickly adapting to fatherhood, though Luna's maternal instincts had her keeping a close watch on his interactions with their new charges.
As the owlets grow under the watchful eyes of Luna and Bomber, they'll learn the ways of the tawny owl—how to hunt, how to hoot, and one day, how to fly from the nest that was their unexpected sanctuary.
Robert E. Fuller's work captures more than moments; it encapsulates the very essence of the wild he so adores.
And as the owlets prepare to take flight, their story is a soaring testament to the beauty and resilience of nature.
For a glimpse into this heartwarming journey, Fuller invites the world to witness Luna's first tender moments with her new family in a video that is sure to inspire and enchant.
Please SHARE this with your friends and family.