Imagine the vast savannahs of Africa, where wildlife roams free and the bonds between animals and humans are sometimes as profound as those we share with each other.
At the heart of such a story is an orphaned rhino, whose journey of separation and reunion captures the essence of connection across species.
The story begins with a man named Kamara who, driven by a deep sense of duty, took it upon himself to raise an orphaned rhino named Kitui.
The early days were marked by a delicate dance of nurturing and teaching, as the young rhino learned to navigate the world under his human guardian's watchful eye.
This period of their lives was a blend of challenges and triumphs, each day strengthening the invisible thread that linked their lives.
As Kitui grew, so did his need for independence, leading to a bittersweet moment where he was reintroduced to the wild.
This transition, while necessary, was not without its emotional weight.
Kamara watched as the creature he had raised ventured into the vastness of the plains, a symbol of success in conservation but also a poignant reminder of the bond they shared.
Time passed, and Kamara carried on with his work, aiding other animals in need, yet the memory of the rhino he raised never faded.
In the interim, Kitui adapted to his natural habitat, thriving amongst his kind, yet the influence of his early years lingered in his demeanor—a gentle giant among the untamed.
Then came the moment of reunion. In an encounter as unexpected as it was moving, the rhino and the man crossed paths once again.
It was a scene that defied the expectations of the wild, as Kitui approached his former caretaker with a recognition that transcended the time they had spent apart.
The encounter was a dance of delicate familiarity, with Kitui allowing Kamara to touch him, a privilege rarely afforded by wild animals to humans.
This interaction was not just a meeting between two individuals — it was a convergence of past and present, a confirmation that their bond was etched into the very essence of their beings.
Observers might have expected Kitui to have forgotten Kamara, to have shed all traces of his human upbringing.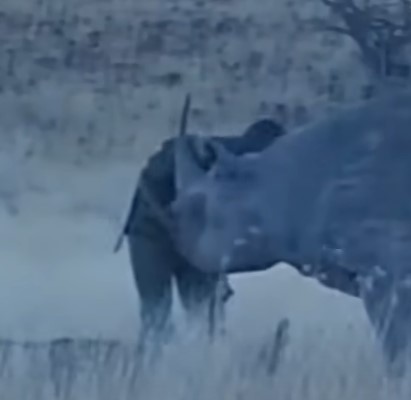 Yet, the animal's gentle nudge and calm demeanor spoke volumes of the indelible impact the man had made on his life.
It was a clear display of trust and affection, qualities not often ascribed to the wild.
This story is more than a heartwarming anecdote — it's a powerful narrative about the potential for coexistence and mutual respect between humans and wildlife.
It underscores the importance of conservation efforts and the profound impact they can have, not just on the animals they aim to protect but also on the humans who dedicate their lives to this noble cause.
Kitui and Kamara's reunion may have been brief, but we're sure neither of them will ever forget this incredible moment.
Wach it for yourself in the video below!
Please SHARE this with your friends and family.