Motherhood is a balancing act, whether you're a human or a four-legged fur mom.
Daisy Duke, a Labrador, recently became a mom to eight cuddly puppies.
While it's often said that the smallest or weakest pup—the "runt" of the litter—may get less attention, Daisy Duke is proving that stereotype wrong in the most heartwarming way.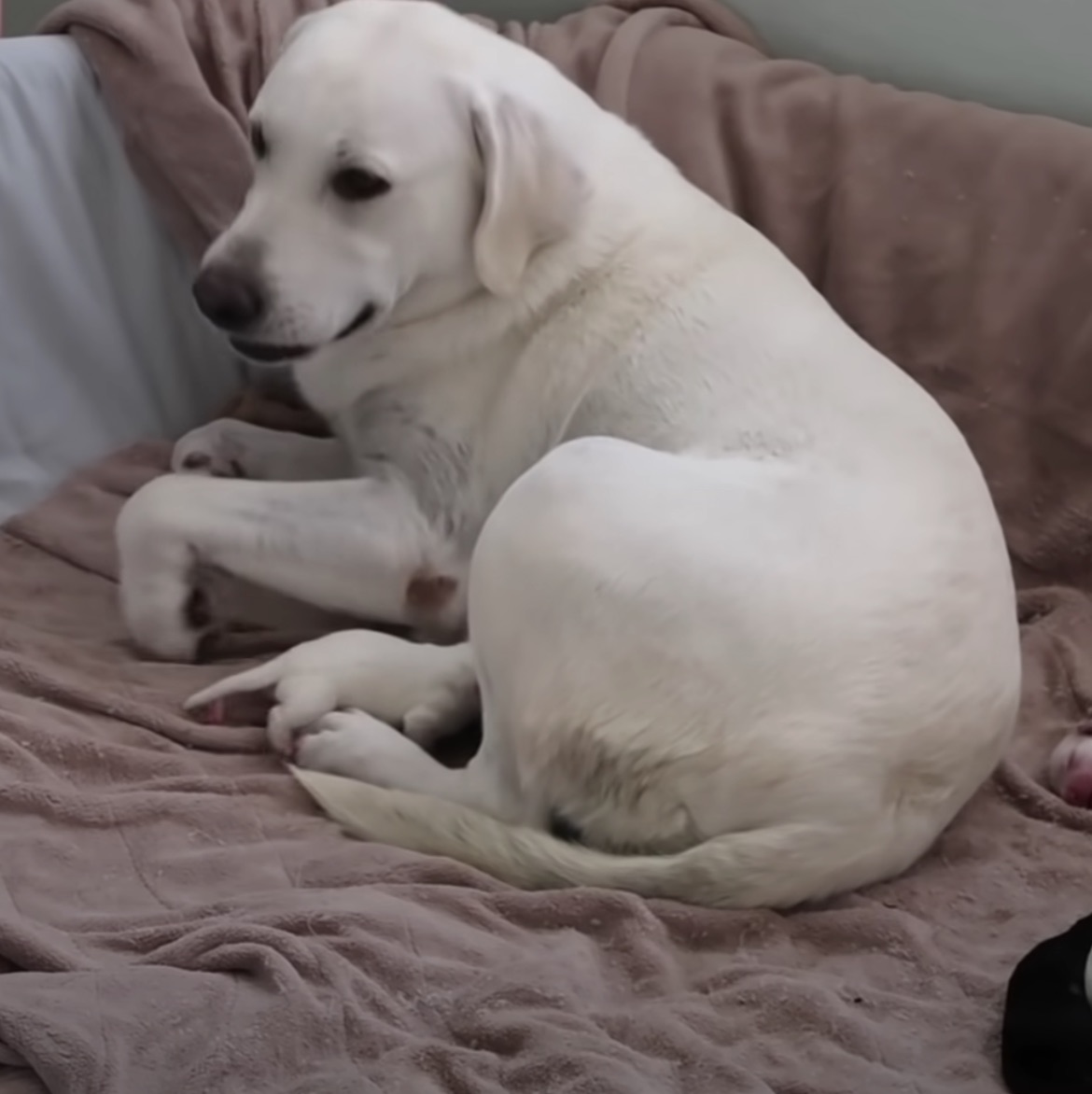 Curious about Daisy's unique approach to motherhood, her human family decided to document it.
They turned on their camera and what they captured is nothing short of magical.
The video is so emotionally charged and touching that it has garnered over five million views on the internet.
Talk about viral love!
The video found its home on "Life With Labradors," a YouTube channel that already has a massive following of more than 645,000 subscribers.
The channel is a haven for dog lovers, featuring countless adorable moments from their Labrador family.
But even among such cuteness overload, this video of Daisy and her littlest one has become a standout sensation.
Daisy had just given birth a few days before the camera started rolling.
Her litter was a beautiful blend of four black and four white puppies.
Among them was Lucy, the runt of the litter.
But as the camera reveals, Daisy doesn't just treat Lucy like any other pup; she showers her with an extra layer of love and attention that's impossible to ignore.
It's as though Daisy has a sixth sense about Lucy's special needs.
While the rest of the puppies are content to sleep in a huddled mass, Daisy allows Lucy her own special snuggle time.
She doesn't just stop at cuddles; she showers Lucy with sweet kisses and shows visible concern when the little one cries.
It's a maternal instinct at its finest.
The human family first realized that something extraordinary was happening when they noticed Lucy was not with her siblings.
A quick puppy count confirmed their suspicion—only seven puppies were in the group.
They soon found Daisy in a secluded corner, lovingly holding Lucy in her mouth and guiding her to a safe nursing spot.
It was a moment that melted hearts and confirmed Daisy's exceptional motherly love.
The video's narration says it all: "She has been the best mom ever."
But it's important to note that not every story of a runt is as uplifting as Lucy's.
In many cases, the smallest of the litter faces challenges, struggling to compete with stronger siblings for food and sometimes requiring human intervention to ensure they get the nutrition they need.
According to the pet advice website PetHelpful, some runts are even ignored by their mothers, who naturally focus on the "healthier" puppies.
The site explains this as a form of "natural selection," stating, "in other words, it is survival of the fittest."
It's a harsh reality that makes Daisy's actions all the more extraordinary.
Daisy's story has struck a chord with viewers, earning the video more than 9.7 million views and a flood of emotional comments.
Phrases like "Amazing! What a tear jerker I wasn't expecting," and "Daisy is a wonderful mama! Sweet family," fill the comment section.
So if you're looking for a dose of pure, unconditional love, look no further.
Daisy's extraordinary care for little Lucy shows the power of motherhood, and it's a must-see for anyone in need of a feel-good moment.
Watch the video below.
Please SHARE this with your friends and family.