In the heart of New York City's streets, a remarkable sight unfolds.
Tim Pink, surrounded by a sea of wagging tails and perked ears, leads a pack of 20 dogs through the urban landscape.
This isn't just any ordinary walk; it's a testament to the extraordinary bond between humans and their canine companions, and a reflection of Tim's unique approach to dog training and care.
Tim's journey began in 2011 when he founded Saratoga Dog Walkers.
Faced with a career crossroads and the responsibility of caring for his Doberman puppy, Tim found inspiration in his own need for a dog walker.
Why not become the solution to his own problem and, in turn, to that of others?
Thus, his path as a professional dog walker and trainer was set.
Every morning at 9:00 a.m., the adventure begins.
Dogs of all shapes and sizes, from a petite 4-pounder to a hefty 110-pounder, are gathered for their daily expedition.
This pack is a melting pot of breeds, a testament to the inclusivity and unity that Tim fosters through his Pink Pup Social Club.
But this is no mere stroll in the park.
Each walk is a meticulously planned exercise in mental stimulation and behavioral training.
Tim believes in challenging the dogs, teaching them to remain composed in various settings.
Whether it's practicing 'sit-stays' amidst the hustle and bustle or navigating unexpected distractions, every moment is an opportunity for learning and growth.
As they move through the city, the dogs transform into a harmonious unit.
It's a sight that often leaves onlookers in awe.
The pack, with its diverse members, moves as one, bound by a sense of trust and respect that they share with each other and their human leader.
They communicate in subtle ways, through licks and gentle nudges, displaying the intricate dynamics of their pack mentality.
View this post on Instagram
This journey, however, is more than a physical one.
It's a transformative experience for the dogs.
Tim takes immense pride in witnessing their evolution, observing as their confidence blooms with each step.
He serves as their guide and guardian, providing them with a sense of security that allows them to let go of their fears and embrace their surroundings.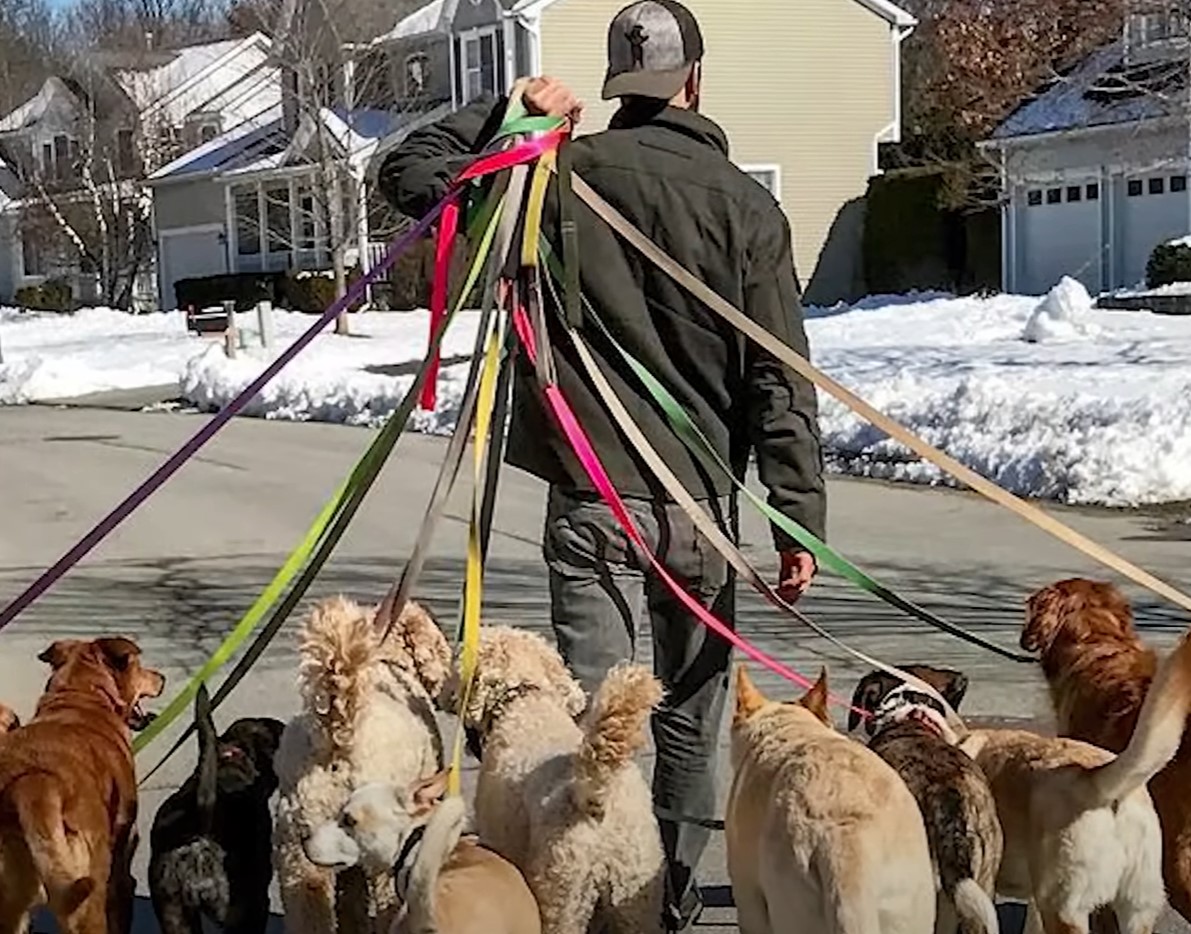 Tim's commitment to these dogs extends beyond the city's sidewalks.
His vision has expanded with the creation of the Pink Pup Social Club, a sanctuary for dogs, offering not just walks but playtime, training, and individual attention.
It's a place where they can further thrive and explore their potential.
View this post on Instagram
As the pack navigates the city, they are on a journey of trust, learning, and mutual respect.
Tim, leading them, is more than a dog walker; he's a mentor, a protector, and a friend.
His story is a testament to the extraordinary relationship we share with our canine companions and the remarkable feats we can achieve when we come together.
View this post on Instagram
See how Tim works his magic to help out shelter dogs in the video below!
Please SHARE this with your friends and family.