Not all cats and dogs have the stereotypical rivalry we often hear about.
In Toledo, Ohio, there's a unique bond between Halo, an 8-month-old male cat, and Harper, a 9-month-old female golden retriever. These two furry friends share a deep affection for each other.
However, at first glance, their interactions might be mistaken for squabbles.
Their playful antics often involve roughhousing and a game that resembles hide-and-go-seek.
But there's a twist: Harper, being the larger of the two, enjoys hiding Halo.
When they snuggle up, Halo almost disappears, completely obscured by Harper's larger frame.
The dynamics of their relationship caught their dad's attention, prompting him to film their interactions.
In one video, Harper can be seen with her nose tucked under her paw, seemingly hiding something.
The dad, sounding a tad concerned, asks, "Harper? What are you doing?"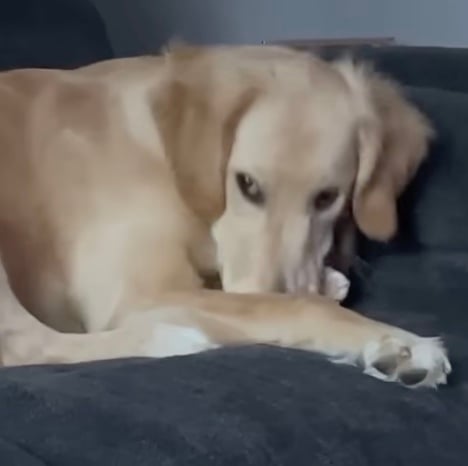 The mystery unravels when Harper lifts her head, revealing Halo tucked underneath her.
Both pets are of a similar golden hue, making the reveal even more amusing. The dad can't help but exclaim, "Oh, my goodness!"
At first, Halo appears quite comfortable, almost as if he's enjoying a cozy nap.
But the mood shifts slightly when Harper rolls over him.
This prompts Halo to playfully gnaw at his canine sister, transitioning into a mock attack.
As the video concludes, the dad remarks, "Poor kitty," capturing the playful essence of their bond.
This endearing video quickly gained traction, amassing over 5.4 million views.
Viewers had varied interpretations, with one commenting, "I can't tell if they're friends or if the dog's holding the cat hostage."
Another observed, "The cat acted like he was embarrassed the humans saw him cuddling the dog."
Another said, "I love the pure innocence of golden retrievers. She was genuinely just wanting to just snuggle with the cat not knowing she is crushing him."
A fourth hilariously said, "'I can explain.' -Harper, who most certainly could not explain."
Regardless of interpretations, one thing is clear: Halo and Harper share a special bond.
This isn't too surprising, given that golden retrievers are known for their friendly disposition.
Nylabone notes that golden retrievers are among the best dog breeds to coexist with cats, thanks to their kind and empathetic nature.
Golden retrievers are not only gentle and affectionate but also intelligent.
They can sense when a cat is getting annoyed and know when to give them space. However, it's essential to train them not to chase cats initially.
When introducing a golden retriever to a cat, it's advised to do so gradually, using treats and familiarizing them with each other's scents.
These two are so cute, and they have the funniest sibling relationship around. They're putting to rest all the stereotypes about cats and dogs not being able to get along.
Check out the full adorable moment in the video below!
Please SHARE this with your friends and family.