Just like people, animals too can forge bonds that are unbreakable.
Dogs, known for their loyalty, are no exception to this rule.
Meet Merrill and Taco, two adorable pups who exemplify the power of friendship.
They're not just any dogs; they're best-friends.
So, who are these two inseparable friends?
Merrill is a spirited three-year-old pit bull, while Taco is an eight-year-old chihuahua with a heart of gold.
Their friendship blossomed at Rocket Dog Rescue, a shelter where they lived together for several years.
According to the shelter's website, Rocket Dog Rescue is a "volunteer-based organization…dedicated to saving homeless and abandoned dogs from overcrowded animal shelters."
It didn't take long for these two to become best friends.
Their bond was put to the test when Merrill needed life-saving surgery.
This was a critical moment, and Taco, being the loyal friend he is, stood by Merrill's side throughout the entire ordeal.
The depth of their connection was evident.
If ever they were separated, even for a moment, both would cry out in distress until they were reunited.
Merrill and Taco were more than just shelter mates; they were family.
Then came the day when a potential adopter walked into the shelter and was smitten by Merrill.
But here's the twist: Merrill wouldn't go without Taco.
She made it clear that her loyalty to her friend was non-negotiable.
It was Taco and her, or nothing at all.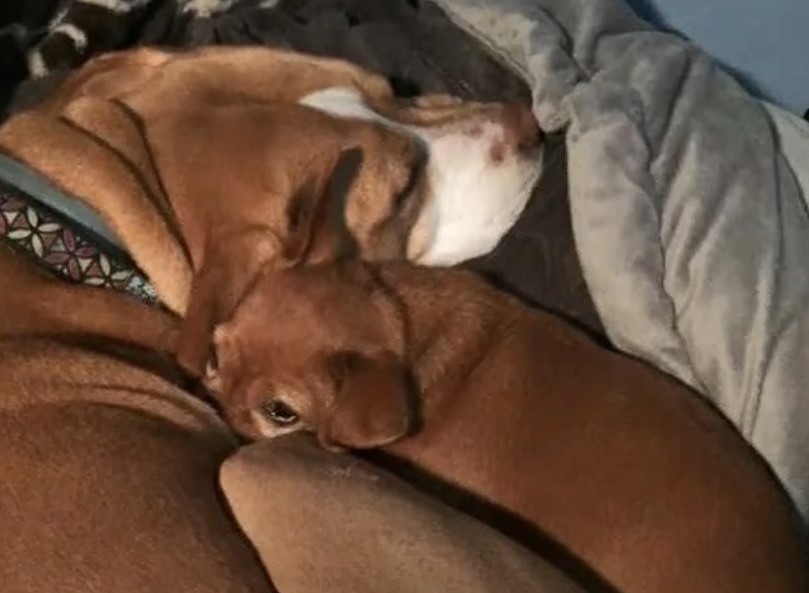 The would-be adopter came to pick up Merrill, but the scene that unfolded was heart-wrenching.
Both Merrill and Taco cried incessantly, making it obvious that separating them was out of the question.
Their cries were not just sounds but echoes of a bond that couldn't be broken.
Fortunately, the adopter had a big heart.
He made the compassionate choice to adopt both Merrill and Taco, ensuring that their friendship would last a lifetime.
The joy and gratitude in the eyes of these two pups were beyond words.
They knew they would be together, forever.
Today, Merrill and Taco are living their best lives in a loving forever home.
They've found a family that respects and honors their unbreakable bond.
These two are destined to be best friends for life, sharing every moment, every joy, and every challenge that comes their way.
This uplifting story serves as a beautiful reminder that some bonds are simply unbreakable.
Watch this heartwarming story in the video below!
Please SHARE this with your friends and family.