It's a little-known fact that most farm sheep must be sheared.
While some people have the impression that sheep are only sheared when their wool is needed, domesticated sheep must actually be sheared, or their health will suffer.
Many domesticated, or farm, sheep are wool or wool/hair crosses that can't regulate the growth of their wool on their own. People must shear them to prevent overheating and improve their quality of life.
Unfortunately, when sheep are not sheared, they suffer from the weight of excess wool.
This is the case of Ellie Mae, a sheep rescued by Harmony Hill Farm Sanctuary. The sanctuary cares for neglected and homeless farm animals. They provide care and attention for sheep, alpacas, and other abandoned farm animals.
A concerned community member contacted the sanctuary to tell them about a sheep being neglected.
"Ellie Mae and another sheep were an FFA (Future Farmers of America) project for a high school student. When he graduated from high school, I think she kind of fell by the wayside and didn't get any attention," Laura Johnson, founder of Harmony Hill Farm Sanctuary, told GeoBeats Animals.
The sanctuary was able to rescue Ellie Mae after negotiating with the farmer.
Laura believes that Ellie Mae wasn't sheared for years, and this caused her wool to grow uncontrollably, even covering her eyes so she could barely see.
When they finally sheared her at the sanctuary, Laura noticed that Ellie Mae's whole demeanor changed when this happened.
Laura also began spending more time with Ellie Mae, petting her and talking to her.
This made Ellie Mae more comfortable around people, and she became more open toward Laura and the other animals in the sanctuary.
"I asked what her name was, and they said she doesn't have a name. She's a farm animal. And honestly, that just cut right through my chest. She was reduced to nothing," Laura shared.
Laura wanted to ensure that this rescue sheep that didn't receive any attention and was alone for the last six years felt loved and cared for.
The first name that came to Laura's mind was Ellie Mae, and they've called her that ever since.
Thanks to Ellie Mae, the other sheep at the sanctuary also changed. Bella was a younger sheep who was at the sanctuary before Ellie Mae.
Bella is Ella Mae's first sheep friend at the sanctuary.
When Ellie Mae arrived, Bella became happier, and they began playing and jumping around together on the farm.
The arrival of Ellie Mae has brought more joy to the entire sanctuary. Not only did she bring more happiness to the animals, she has also brought brought delight to the people who volunteer at the sanctuary.
Today, Ellie Mae is a happy sheep who knows her name and responds to Laura when she is called.
She has won the hearts of her farm animal friend and people who have watched her video.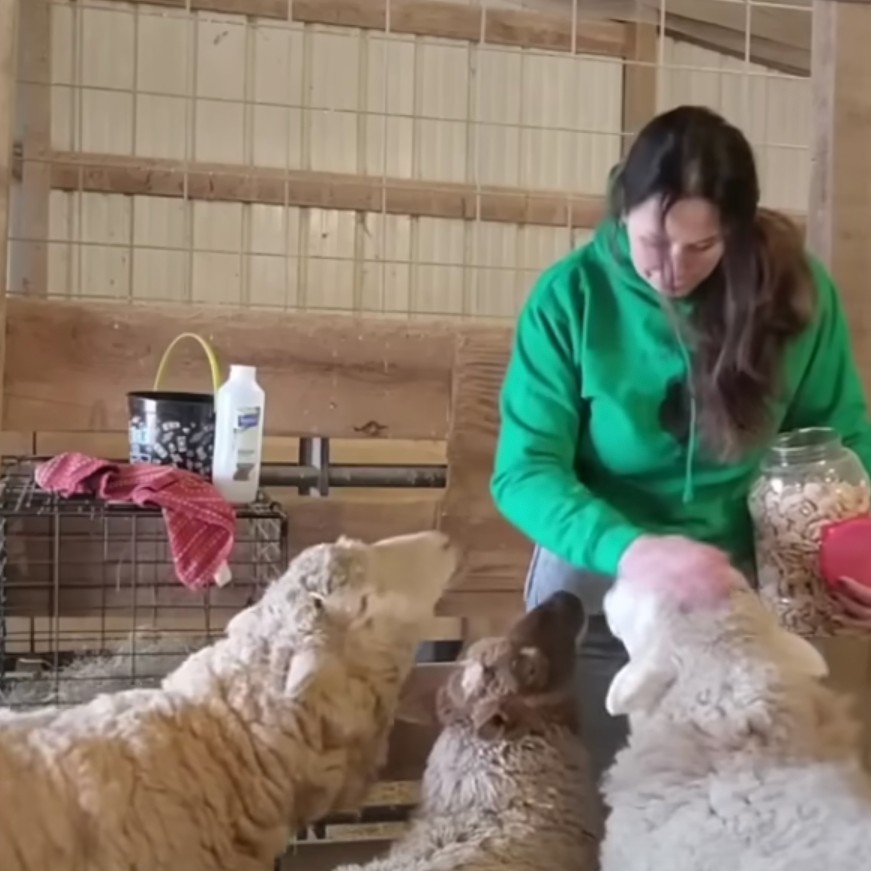 "This did my heart a world of good! Thank you for rescuing Ellie Mae and giving her a safe, loving environment where she can be the best sheep ever. I'll be seeing her jumping and frolicking in my dreams tonight," one commenter said.
Another said, "Seeing them bouncing around is the cutest thing, enjoying their safety and being loved by other animals and their awesome humans. Thank you!"
We're so happy for Ellie Mae and all the other farm animals living at Harmony Hill Farm Sanctuary. If you would like to make a donation, please visit their website here.
Watch the video of Ellie Mae enjoying herself for the first time in years below!
Please SHARE this with your friends and family.
Maria Pangilinan is a contributor at SBLY Media.