Kangaroos are large mammals found naturally only in Australia and Papua New Guinea.
Many people find them adorable because of their large hind legs, small front legs, and strong tail. They also have kind-looking faces and move around by hopping and jumping.
However, don't be deceived by their cute faces. While they are usually gentle animals, kangaroos can be aggressive toward humans when they feel threatened. And because of their extremely strong hind legs and sharp claws, they can be dangerous.
Fortunately, you can't find any of this aggressive behavior in baby kangaroos, also known as joeys.
In this video, an eight-year-old boy is comforting two joeys.
These two Eastern Grey Kangaroo joeys, Dudley and Valerie, were rescued when their mothers were hit by cars and died.
They will be raised by their rescuers until they grow and reach a certain weight. When they achieve this, they will be released back into the wild.
The little boy in the video is outside in the yard playing with the joeys.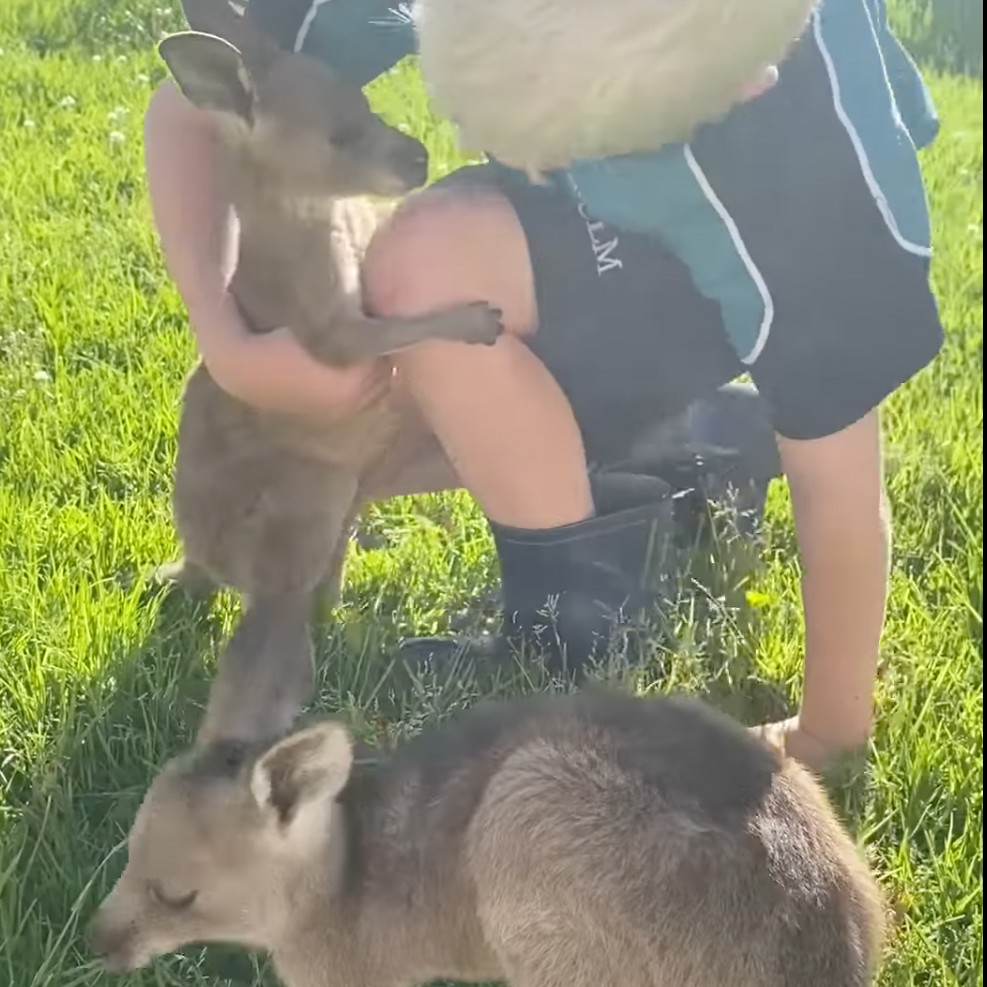 When he walks away, one of the joeys hops towards him and stands by the boy's leg.
The boy bends down to pet him, and the joey reaches out and clutches the boy's arm.
When the little boy kneels down, the kangaroo hugs his leg and the boy hugs him back. The other joey also hops towards him, and the boy pets him as well.
He also asks, "Oh, hi Dudley. Do you want to hug me," when the other joey goes near him.
He then stands up and the joeys continue to follow him.
The sweet video has received over seven million views and has melted the hearts of people all around the world.
One netizen said, "The little boy's tenderness almost made me cry."
Another comment said, "He is so gentle with the baby animal. Bless this boy's heart."
"Wow, the amount of pure innocence and cuteness in this video is overwhelming. Why can't the whole world be like that?" shared one more commenter.
In the video, you can clearly see how caring and empathetic the little boy is towards the baby kangaroos.
He has won the hearts of people around the world, thanks to his gentle demeanor.
Although it's sad that Dudley and Valerie have lost their mothers to motor accidents, we are happy that they are in good hands!
We can see that the boy and his parents love and care for the joeys and will take care of them until they are ready to be released.
One of the biggest threats to kangaroos is human activity, including conflict with vehicles.
A study shows that in 2019, out of 13,000 animal strikes in the New South Wales area of Australia, 85 percent of the animals hit were kangaroos.
We hope that road safety improves in Australia, so fewer joeys will need to be rescued and raised by humans instead. Fortunately, many people are ready and willing to take care of these orphaned animals, like this little boy and his family.
Watch the sweetest boy comforting baby kangaroos in the video below!
Please SHARE this with your friends and family