Belle's story begins in the harsh Minnesota winter, where she was found braving a blizzard.
This resilient Husky wasn't alone; she was sheltering her friend, a blind Chihuahua named Winston, from the biting cold.
It's a heartwarming image: Belle, with her thick fur, acting as a living blanket for her vulnerable companion.
This wasn't the first time Belle and Winston had been in a tough spot.
Local animal control officers recognized them; they had been picked up before after escaping from their previous home.
Belle's past was a sad tale of backyard breeding, a life far from ideal for any dog.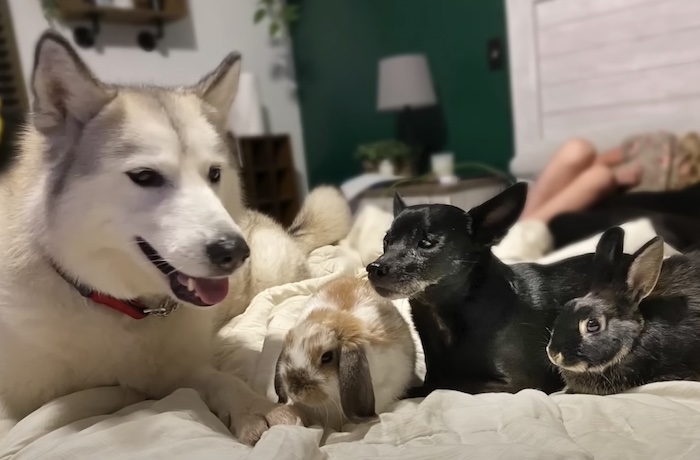 This time, their fate took a turn for the better.
Instead of being claimed by their previous owners, Belle and Winston were taken in by No Dog Left Behind (NDLB), a dedicated canine rescue organization in Minnesota.
NDLB's mission is to rescue neglected, abandoned, and abused dogs, giving them a chance at a loving forever home.
Part of NDLB's rescue process involves fostering, and that's where Stephanie Easley comes in.
She's a foster parent with NDLB and took Belle and Winston under her wing.
However, Belle wasn't immediately trusting; she showed signs of aggression, understandably wary of new people after her tough past.
Stephanie and her husband took a patient approach with Belle. They gave her space and time, waiting for her to come to them.
This gentle strategy paid off. Belle gradually warmed up to her foster parents, eventually becoming calm enough to safely interact with children.
This transformation led Stephanie and her husband to make a heartwarming decision: they adopted Belle.
Belle's new life revealed something remarkable: her strong maternal instincts.
Having had her own puppies taken from her, Belle's desire to nurture was still very much alive.
When Stephanie's family began fostering bunnies, Belle's maternal side truly shone. She saw the bunnies as her own babies, fiercely protective and loving.
Belle's protective nature extended to all small animals that came into the Easley household.
She was always there, guarding and caring for them, especially the bunnies.
Belle was so dedicated that she wouldn't let anyone near her 'babies' unless it was for essential care like feeding or grooming.
Belle's watchful eyes didn't miss a beat.
She was always on guard, ready to growl if she felt her charges were being handled in a way she didn't approve of.
Her vigilance ensured that these little creatures were in the safest of paws.
Belle's journey from a life of hardship to becoming a loving, protective foster mother to various small animals is truly inspiring.
Her story is a testament to the resilience and capacity for love that animals possess.
To see Belle in action with her bunny 'babies', check out the video below.
Please SHARE this with your friends and family.