Pets can be amazing companions. When it comes to dogs, they can be your best friends and they will definitely love you unconditionally and never betray you- especially if you treat them well.
However, it is crucial that dog owners train their pets or have them trained, ideally at a young age.
Experts encourage dog owners to get started with their furry friends' training as early as seven weeks to four months in order to make sure their dog will develop into a well-adjusted, well-mannered adult.
But, in the case of rescue dogs who have not received any training early in life, their new owners should not worry because they can still be trained at any age.
And Jackson is proof of exactly this.
A number of years ago, Steve Moore adopted a 3-year-old Golden Retriever.
The man rescued the dog from a shelter and he decided to start training him right away.
It was not an easy thing to do, but Steve was determined to teach his new best friend what he needed to know about going out with his daddy and more.
Within a month of the adoption, Jackson had already learned how to wait for his daddy to come out when he was inside the store.
Having a sign hanging like a collar around his neck, Jackson informed passers-by that he was not lost or abandoned. He was just waiting for his daddy to do his shopping.
"Dad told me to wait here – Me waiting" the sign read.
Still, Steve never left Jackson unattended. Although the dog had no idea, and neither did people walking past the cute canine, Steve was always hidden somewhere making sure Jackson would not get into trouble or would not be forced to leave with some stranger.
All of this was part of the dog's training.
Steve just wanted to make sure the pup had been trained successfully to ignore distractions such as people asking him to follow them, others giving him treats, or dogs walking past him.
Indeed, Jackson was such a good boy. He never disappointed.
Still, people who happened to see him as they were doing their shopping often stopped to casually pet him and tell him how nice he was.
The local news even made a video dedicated to the sweet and patient dog, which has since gone viral with more than a million views on YouTube.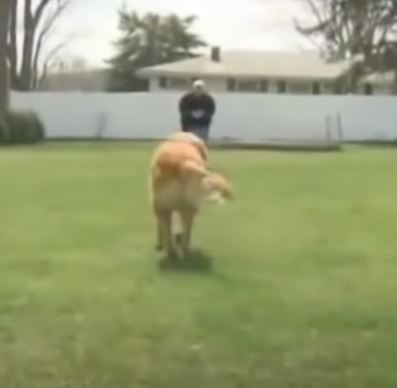 Most people commented on how well-trained the dog is, but there were others who criticized Moore for leaving the dog "unattended". He really wasn't though.
The man made sure to reply that the whole thing was part of the dog's training.
"You can train any dog. It's more just about the attitude you have and what you're going to bring to the table to interest the dog," Moore told WTAJ at the time.
Apparently, he brought something very special to the table because Jackson got trained quickly and successfully.
You can watch the heartwarming video below!
Please SHARE this with your friends and family.
Source: YouTube – sumerhil, AKC, Loyal Companions
Irene Markianou is a contributor at SBLY Media.