There's a stereotype that cats and dogs will always fight when they're together, but time and time again that's proven not to be true.
And this video shows an example of just how well they can get along.
A golden retriever became best friends with his cat buddy, and when she had kittens he took on the role of protector.
Golden retrievers are known for being happy, playful, gentle, and loving dogs. These traits make them great family dogs. They are not only good around children, but they are also great around cats too.
Golden retrievers are trying to take back the stereotype of dogs hating cats.
These gentle giants only want to love everyone and everything.
The website The Spruce Pets states this about the relationships why golden retrievers are great with cats,
"…its good manners extend to cats as well as people. Golden retrievers are loving and sweet-natured, as well as adaptable and outgoing. Most goldens can live successfully with cats as long as they are properly introduced."
This gentle golden retriever was already best friends with his cat before she had her kittens. These two could be found grooming each other and cuddling up together.
Watching a small cat try to groom a big golden retriever might be the cutest thing ever! These two buddies are starting to make the dad cat a bit jealous.
He had to see what was happening and he seems utterly confused.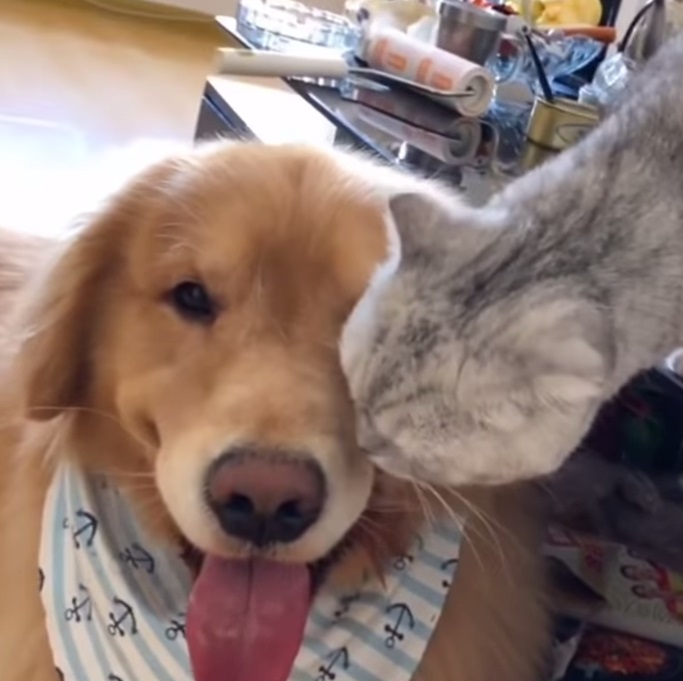 It is important that these two friends had a prior friendship before this mama cat had her kittens. This is because even though golden retrievers are always friendly, mama cats can be very protective of their babies.
So, the prior friendship between these two animals, let the mama cat know she could trust her giant best friend with her babies.
This golden retriever just gained five babies to look after too.
Parenting isn't easy after all and that mama cat probably welcomes the breaks.
The kittens are much tinier than their mom, but it is almost instinctual for the golden retriever to be even more careful with them.
The golden retriever gets some one on one time with each kitten and also some group time with all of them. He has all five kittens under his fur and is smiling like a proud uncle. He is a part of their family and he knows it.
He is smiling with all of them, while still looking down and checking on them.
The golden retriever gets more bonding time when he has one on one time with each kitten.
He cuddles up to them and puts them gently in his warm fur. He even gets so comfortable once the kitten is sleeping that he starts to nap right along with the kitten.
It does not get more adorable than that!
The mom is never far from her kittens though. As their owner lets the golden retriever introduce himself to each kitten, the mama is right below the bed with her other babies. She trusts her best friend, but she still probably does not like one being too far from her.
The owner puts the kitten back down with the mom, and the golden retriever looks on happily.
The owner gives the golden retriever some well-deserved love to show what a great dog he is!
What a cute little family. We love watching them all together.
Check out the adorable video below!
Please SHARE this with your friends and family.
Patricia Lynn is a senior writer at Shareably. Patricia is based out of San Francisco and can be reached at
[email protected]