Gary Grayson, an avid adventurer from Salford, UK, was no stranger to the thrills and perils of the deep blue.
His diving experiences had brought him face-to-face with the ocean's fiercest predators, sharks and crocodiles.
But on a seemingly ordinary day in the waters of the Scilly Isles, Gary's expectations were flipped when he met a creature of a different nature—a friendly seal, eager for human interaction.
This is the tale of Gary Grayson and his remarkable underwater rendezvous with a seal that sought nothing more than a touch of companionship.
Gary's life was a tapestry of high-octane pursuits, from skydiving to motorcycle riding, and of course, scuba diving.
On this particular dive, he was accompanied by a friend who managed to capture the entire episode on camera.
As they explored the aquatic surroundings off the Scilly Isle, a group of seals made their appearance.
Known for their unpredictability, seals can sometimes display aggression towards divers.
However, a curious seal pup separated from its family and made its way towards Gary.
With bated breath, Gary awaited the pup's next move.
Initially, the seal pup gently pressed its nose against Gary's mask.
When Gary reached out, the seal responded in kind, astonishingly shaking his hand with its flipper.
The seal's playful demeanor encouraged Gary to interact more, and at one point, the pup even bit on his gloves.
The seal seemed to revel in the attention as Gary scratched its chin.
It appeared to smile, whiskers twitching, as Gary's fingers gently brushed its skin.
Viewers see this gesture of affection as a moment of connection between man and marine life.
The highlight of their interaction was when the seal, in a display of trust, rolled over to present its belly.
It was a request for belly rubs, and Gary obliged.
When he paused, the seal nudged him, asking for more, making this encounter an unforgettable one for a diver who had swum with the most majestic and intimidating creatures of the sea.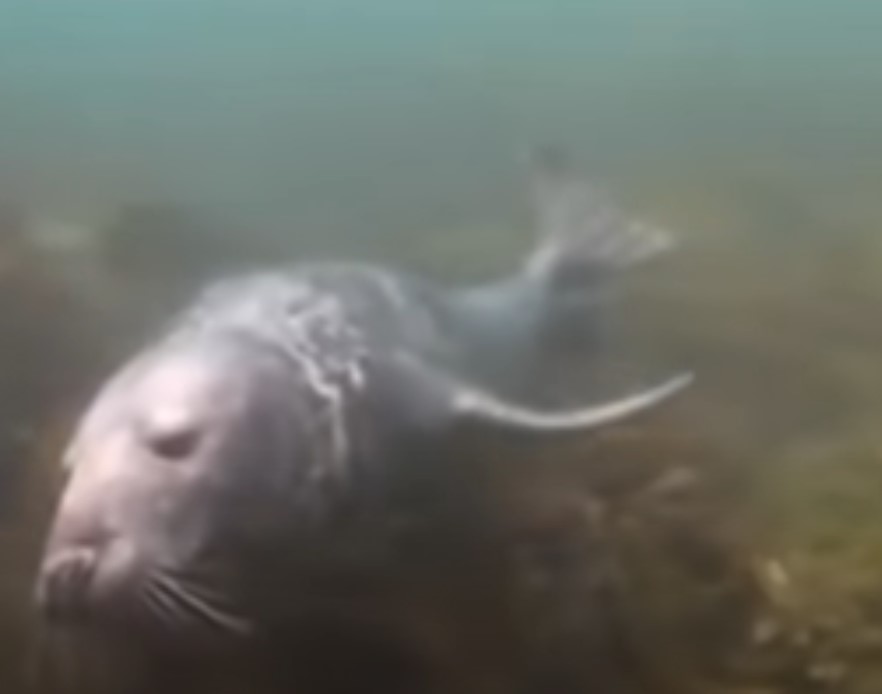 This close encounter left an indelible mark on Gary.
Fortuitously, his dive buddy had been recording, capturing the sweet exchange on camera.
After the dive, Gary uploaded the video to his YouTube account and shared the link with friends and family, not realizing how impactful the footage would become.
The video quickly captured hearts worldwide, going viral.
The person most moved by the video is Gary himself, who admits to watching it almost daily, reliving the serene moment with his aquatic friend.
The video of Gary's encounter with the seal has touched many, spreading joy and wonder at the unexpected friendship between a man and a wild seal.
Watch this incredible moment in the video below!
Please SHARE this with your friends and family.