Imagine spending seven years of your life confined to a small space, your feet perpetually in the same position.
This was the reality for Paco, a bird whose life took a dramatic turn when he was adopted by a family committed to his well-being.
The transformation wasn't just physical; it was emotional and psychological, a journey from fear to trust, from confinement to freedom.
When Paco's new family first encountered him, he was at a trader's place, visibly stressed and shaking with fear.
His previous owner had given him up due to behavioral issues.
The family knew they had a long road ahead but were determined to make a difference in Paco's life.
They began by bringing him into their home, a place where he would soon learn the meaning of love and trust.
The initial days were challenging.
Paco was afraid of everything, even the most mundane objects like a cup.
His fear extended to human hands, making any form of interaction a daunting task.
But the family was patient, employing positive reinforcement training to gradually build a bond with him.
Over time, Paco began to trust, allowing his new family to get close to him without showing aggression.
The family didn't stop at mere domestication; they aimed for Paco's holistic well-being.
They introduced him to the great outdoors, taking him on daily walks and bike rides.
Paco reveled in these experiences, his feathers ruffling with excitement every time he stepped into the forest.
The family's gypsy wagon was parked near a beautiful forest, offe
ring Paco a serene environment where he could truly relax and enjoy the view.
Emotional bonding was another crucial aspect of Paco's transformation.
He loved to cuddle and be around his human family for hours, softly touched and occasionally kissed.
The family even joked that their kids had a "little green brother," emphasizing how integral Paco had become to their lives.
Paco's journey also had its share of health challenges.
He was overweight and had balance issues, partly because he had been clipped at a young age before learning to fly.
Although he can fly now, he prefers the safety of staying close to his family.
His vocalizations are minimal, but his calm and quiet demeanor speaks volumes about his newfound peace.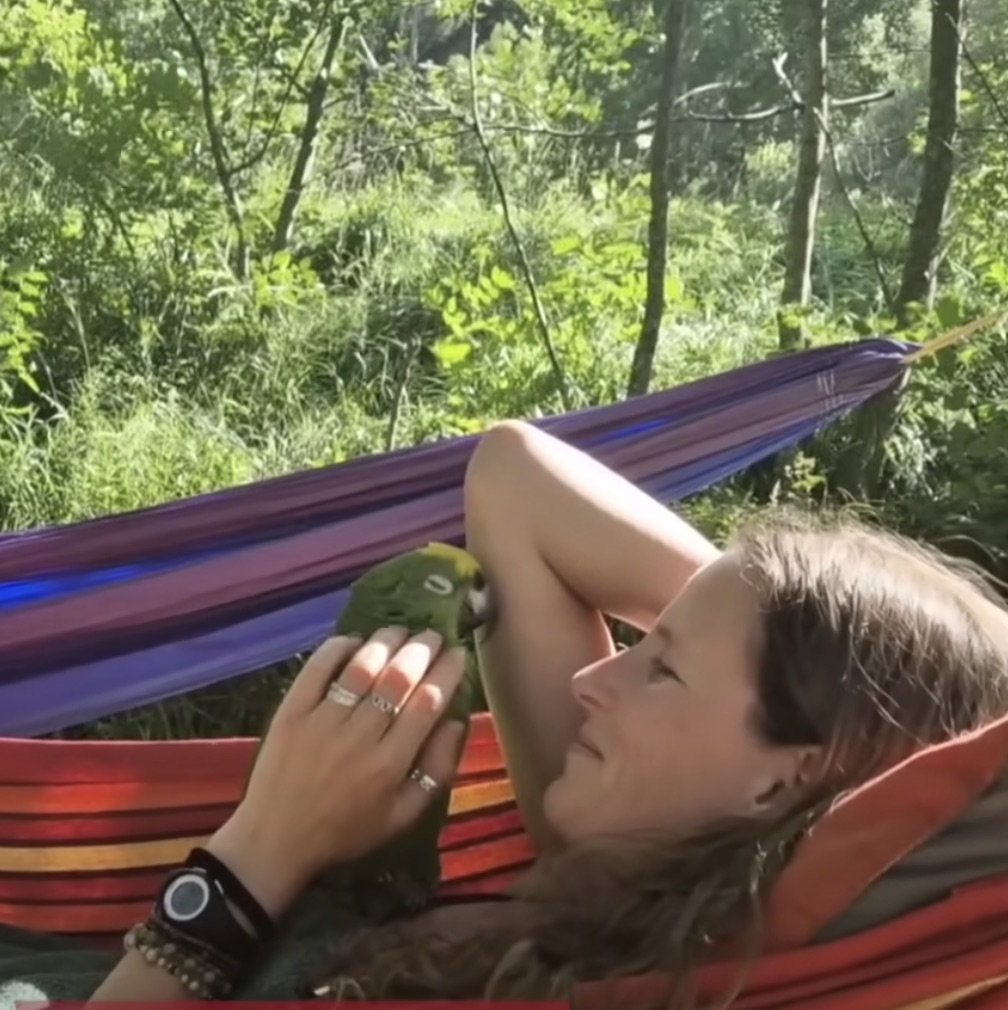 The family also engaged Paco's intellect, teaching him tricks and playing games, especially during the winter months when outdoor activities were limited.
Paco was quick to learn, picking up new skills almost immediately when rewarded.
His intelligence shone through, adding another layer to his already fascinating personality.
As they look to the future, the family is optimistic about Paco's longevity.
With a potential lifespan ranging from 25 to 65 years, or even more, they know that Paco has many more years to enjoy his freedom.
The children are already prepared to take care of him when the time comes, ensuring that Paco will always have a loving home.
Paco's story is proof of the transformative power of love, patience, and understanding.
It's a journey from a life of limitations to one of endless possibilities, a tale that not only warms the heart but also serves as a reminder of the impact we can have on the lives of those who cannot speak for themselves.
Watch Paco's incredible journey and transformation below.
Please SHARE this with your friends and family.
Article Sources:
GeoBeats Animals