By now you must have heard of emotional support pets. They can make a world of difference for people going through difficult circumstances or mental health struggles.
It just so turns out, that it can also be helpful for our furry friends.
Billie is a Labrador puppy in Florida who doesn't like being left alone.
When her owner, Anna Love, first adopted Billie, she noticed that the dog had some anxiety.
Over time, she realized that her sweet pooch didn't just have regular nervousness, she had full-blown separation anxiety.
View this post on Instagram
Billie is great at being with other people and animals, but she cannot stand being left alone.
At first, Anna tried giving her a teddy bear to comfort her, but Billie's anxiety was still too extreme.
Billie's intense separation anxiety led Anna to try something you might not expect – her own emotional support dog.
Anna felt like she could never leave Billie alone. So she decided to give Billie somebody who would always be there with her: a puppy to keep her company while Anna was out of the house.
To help Billie out, Anna adopted Gus, another Labrador, who was more than happy to be there for Billie.
Gus is a younger dog, and Anna was initially worried that things would not work out as well for these two.
Introducing dogs who are unfamiliar with each other can sometimes go wrong.
There was also the risk that Gus would bring on his own share of hassle and difficulties.
As Anna explains to Metro:
"'We wanted her to have a snuggle buddy that she felt safe with … We were worried that Gus wouldn't be as sweet or cuddly as Billie, or that he wouldn't like her. Truth is, he loves her more than me or my husband could have imagined."
Bringing Gus home changed Billie's life.
Now, thanks to her supportive little brother, Billie is a much happier pup.
Because Gus is a calming presence in Billie's life, her separation anxiety has disappeared.
Anna and her husband have noticed that Billie is now much calmer being on her own and does not crave as much attention as before.
Before Gus came around, it was hard for Anna to get work done or do anything not involving her dog.
Now, she can be a bit more independent because Billie has become less reliant on her.
These two are now friends for life!
Billie and Gus have a great relationship, and they are also adorable together.
They have a habit of falling asleep cuddling, with Billie being the big spoon and Gus being the little spoon.
As they get older and grow, their relationship will remain steadfast anchors in this wild world.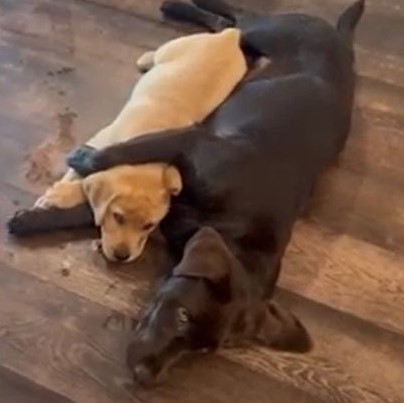 Anna knows how adorable these dogs will always be, so she made an Instagram and a TikTok to document their lives and share it with their fans!
In particular, their TikTok, which documents all their antics, has over 112 thousand followers.
A lot of people out there know these dogs are amazing.
Billie and Gus's relationship is beautiful.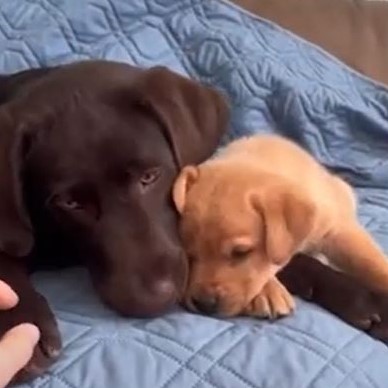 This shows that dog's have important emotions that should be taken care of, the same way that we take care of our own and our loved one's emotions.
Billie and Gus have changed each other's worlds, and they have each other's backs for life. Best friendship is not just a thing of the human world!
Watch the video below to see the adorable moment these two dogs met, and the growth of their relationship!
Please SHARE this with your friends and family.
Source: Metro, Newsweek, Caters Clips
Kate Miano is a contributor at SBLY Media.